Wal-Mart's Thanksgiving Day Workers Get a Bittersweet Deal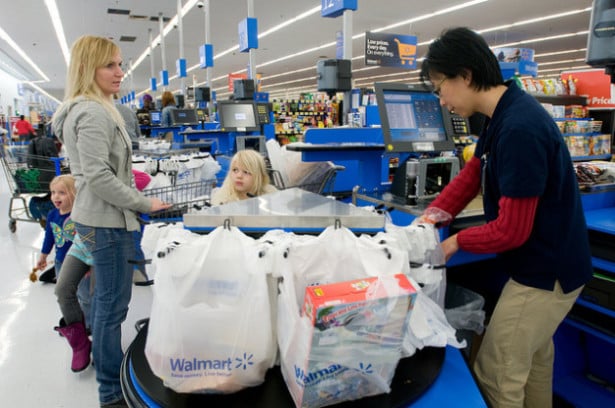 Wal-Mart (NYSE:WMT) is starting up its Black Friday shopping event earlier than ever this year, at 6 p.m. on Thanksgiving Day.
"Black Friday is our Super Bowl and we plan to win," Duncan Mac Naughton, Wal-Mart's chief merchandising and marketing officer, said in a company press release. "With six fewer days from Thanksgiving to Christmas, the retail environment is more competitive than ever. Every opportunity to get a great deal — whether this weekend, on Thanksgiving Day or Black Friday weekend — matters for our customers. When it comes to price, we're going to deliver for them."
This is good news for consumers but an unfortunate turn of events for Wal-Mart employees that will be working during the holiday sales rush.
"I don't want my kid to know that she didn't get to celebrate with her parents because I had to work," Barbara Gertz, a stock room worker in a Colorado Wal-Mart, told CNN Money. She makes $10 per hour and between $21,000 and $23,000 per year. According to the U.S. Social Security Administration's National Average Wage Index, the average American yearly wage is nearly twice that, at $44,321.67.
Still, perhaps the sacrifice in family holiday time would be worthwhile if Gertz knew she'd be making enough in the name of work — unfortunately, that doesn't seem to be the case. "The extra pay is not really a benefit, since they cut your hours," said Gertz in her interview with CNN Money. She said her schedule was reduced by five hours during the pre-holiday period and in the weeks following: "Your paycheck either equals the same amount or it ends up being less."
Wal-Mart has plans to promote 160,000 workers this year — 25,000 between November and January — as well as provide a meal during the Thanksgiving holiday for employees who spend it at work. The company said it will also be giving a 25 percent discount on a purchase for each employee.
Still, Gertz, who has participated in Wal-Mart strikes in the past, said to CNN Money that this isn't enough. Gertz notes that she'll be one in many voicing her displeasure, with 1,500 worker protests slated to occur around the country.
Don't Miss: Walmart Under Attack from Ashton Kutcher and NLRB Over Labor Violations.