Wal-Mart's UK Arm Discovers Horse DNA and 4 Dow Movers to Follow
Johnson & Johnson (NYSE:JNJ): Current price $75.92
The company has advised physicians outside the United States to cease the use of its Adept hip implant following a higher-than-expected failure rate, says Bloomberg. A United Kingdom database discovered that 12 percent of patients subsequently required a repeat surgery to fix the implant which hasn't been sold since 2011. Around 7,500 of the hips were distributed in 21 countries other than the United States.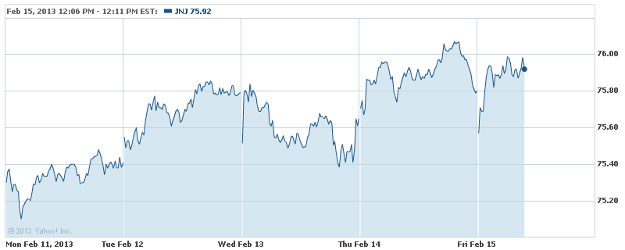 JPMorgan Chase & Co. (NYSE:JPM): Current price $48.97
JPMorgan Chase won the shares race on Thursday among the largest domestic financial firms, as it shaw shares rising more than 1 percent to close at $49.22.

Pfizer  (NYSE:PFE): Current price $27.35
ViiV Healthcare, which is a joint venture of GlaxoSmithKline (NYSE:GSK) and Pfizer, said that the FDA has granted a priority review designation to dolutegravir, submitted for the treatment of HIV infection in combination with other antiretroviral agents, in adults and adolescents. The FDA has assigned dolutegravir a Prescription Drug User Fee Act target date of August 17, 2013. The venture submitted a Marketing Authorisation Application for dolutegravir to the European Medicines Agency on December 17, 2012.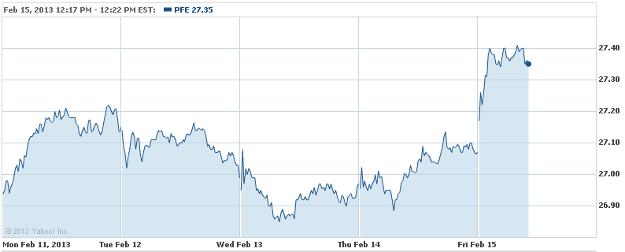 Wal-Mart Stores (NYSE:WMT): Current price $69.61
Horse DNA has been found in the beef bolognese sauce sold by Asda, the United Kingdom supermarket arm of Wal-Mart with about 550 shops there. The chain is withdrawing that product and three others from its stores, according to Reuters. In January, Asda withdrew four burger products after they were discovered to contain trace levels of horse DNA. These products were supplied by Silvercrest, a distributor which had also sold Tesco and other grocers beef burgers containing horse meat.

Investing Insights: Is TripAdvisor a Bargain Here?