Walgreen Sales are Up and 2 stocks At 52-Week Highs
Valmont Industries (NYSE:VMI): Closing price $147.68
Valmont has acquired privately-held Locker Group Holdings, a maker of perforated and expanded metal for the non-residential market, industrial flooring and handrails for the access systems market, along with screening media for applications in the industrial and mining sectors. Locker Group sees yearly sales of about $80 million and operates five manufacturing locations across the region. Valmont expects the acquisition to be slightly accretive to its 2013 earnings. Shares closed up 1.45 percent on the day at $147.68, having been traded in a 52-week range of $105.00 to $148.26.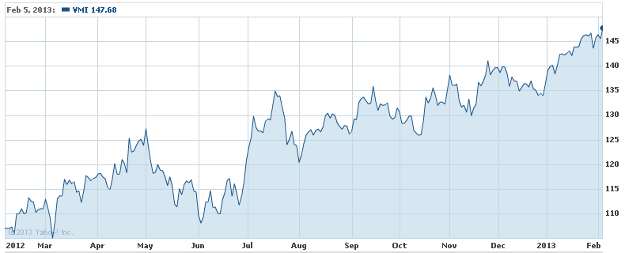 Walgreen Company (NYSE:WAG): Closing price $41.33
Walgreen's total front-end sales rose by 1.3 percent year-over-year from fiscal 2012, while comparable store front-end sales fell by 0.4 percent. Customer traffic in comparable stores slumped by 2.8 percent while basket size increased by 2.4 percent. The firm said that the percentage of Express Scripts customers filling prescriptions in its pharmacies continued to increase in January. January pharmacy sales rose by 8.7 percent, while comparable store pharmacy sales jumped by 6.2 percent, and sales in comparable stores increased by 3.7 percent. Shares closed up 3.3 percent on the day at $41.33, and have been traded in a 52-week range of $28.53 to $40.47.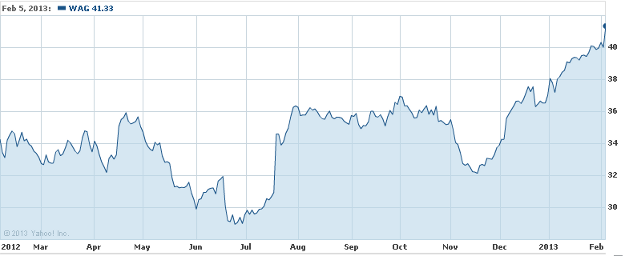 YM Biosciences (AMEX:YMI): Closing price $2.95
The company said that the Supreme Court of Nova Scotia has issued a final order okaying the plan of arrangement involving YM and Gilead Sciences (NASDAQ:GILD). Through the terms, the latter will purchase all of the issued and outstanding common shares of YM Biosciences for a cash consideration of $2.95 per share. It is anticipated that the deal will become effective on February 8th. Shares closed up 0.34 percent on the day at $2.95, having been traded in a 52-week range of $1.45 to $2.94.

Investing Insights: Is Hologic a Worthwhile Investment?