Walgreens Earnings: Rising Revenue Helps Margins Expand, Profit Rises
S&P 500 (NYSE:SPY) component Walgreens (NYSE:WAG) reported its results for the third quarter. Walgreen Co. operates retail drug store and general merchandise. It is engaged in the retail sale of prescription and non-prescription drugs and general merchandise.
Don't Miss: Wall St. Cheat Sheet's newest Feature Trades of the Month!
Walgreens Earnings Cheat Sheet for the Third Quarter
Results: Net income for Walgreens rose to $603 million (65 cents/share) vs. $463 million (47 cents/share) in the same quarter a year earlier. A rise of 30.2% from the year earlier quarter.
Revenue: Rose 6.8% to $18.37 billion YoY.
Actual vs. Wall St. Expectations: WAG beat the mean analyst estimate of 62 cents/share. Estimates ranged from 56 cents per share to 66 cents per share. Analysts were expecting revenue of $18.33 billion.
Quoting Management: "We are pleased with our very solid performance in the third quarter as we were able to meet our financial goal of double-digit growth in earnings per share," said Walgreens President and CEO Greg Wasson. "Our business strategies resulted in strong quarterly sales and increased cash flow. As fuel prices remain high, further stretching household budgets, we serve as a convenient destination for health and daily living."
Key Stats:
The company has now seen net income rise in three-straight quarters. In the second quarter, net income rose 10.5% and in the first quarter, the figure rose 18.6%.
Revenue has risen the past four quarters. Revenue increased 8.9% to $18.5 billion in the second quarter. The figure rose 6% in the first quarter from the year earlier and climbed 7.4% in the fourth quarter of the last fiscal year from the year-ago quarter.
The company beat estimates last quarter after being in line with expectations in the second quarter with net income of 80 cents per share.
Gross margins grew 0.4 percentage point to 28.1%. The growth seemed to be driven by increased revenue, as the figure rose 6.8% from the year earlier quarter while costs rose 6.2%.
Competitors to Watch: drugstore.com, inc. (NASDAQ:DSCM), Graymark Healthcare Inc (NASDAQ:GRMH), CVS Caremark Corporation (NYSE:CVS), Rite Aid Corporation (NYSE:RAD), PetMed Express, Inc. (NASDAQ:PETS), China Nepstar Chain Drugstore Ltd. (NYSE:NPD), PharMerica Corporation (NYSE:PMC), BioScrip Inc. (NASDAQ:BIOS), Target (NYSE:TGT), Wal-Mart (NYSE:WMT) and Medco Health Solutions Inc. (NYSE:MHS).
Stock Performance: Shares of WAG are down over 5% to $42.79 per share.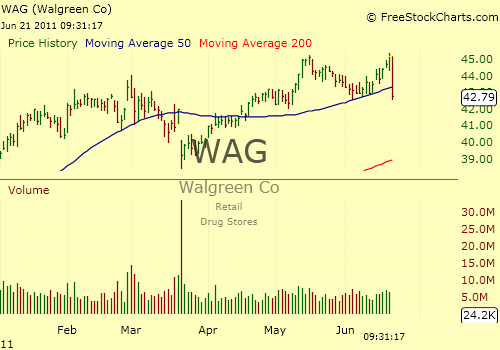 Don't Miss Wall St. Cheat Sheet's newest Feature Trades of the Month!
(Source: Xignite Financials)