Walgreen's FQ3 Performance Disappoints and 2 Other Hot Stocks to Watch
Walgreen Co. (NYSE:WAG): Current price $44.27
Even though Walgreen's fiscal third quarter earnings moved up by 16 percent year-over-year, the figures still missed Wall Street expectations. By late morning Tuesday, the shares were down more than 7.5 percent. The company told analysts that sales in its stores outside the pharmacy were not up to its expectations, but it was working to repair that. Walgreen also lowered its forecast for the earnings it expects from the European health and beauty retailer Alliance Boots for its fourth quarter. After this, analyst Edward J. Kelly Credit Suisse termed the results "fairly disappointing."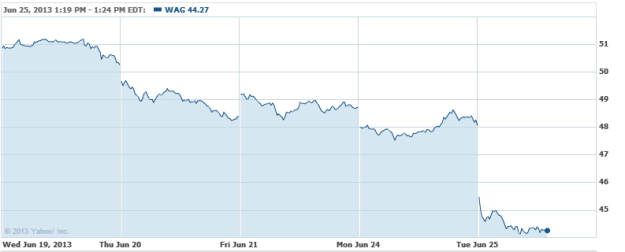 BlackBerry (NASDAQ:BBRY): Current price $14.34
On Tuesday, Blackberry announced a new security solution that separates work and personal apps and data on iOS and Android devices. Secure Work Space for iOS and Android is a new option with BlackBerry Enterprise Service 10 (version 10.1.1), which provides customers with a Bring-Your-Own-Device policy, a solution containing the optimal combination of user experience, security, and total cost of ownership. BlackBerry created Secure Work Space to address the management, security and cost requirements of the CIO, and the user experience and functionality that employees need.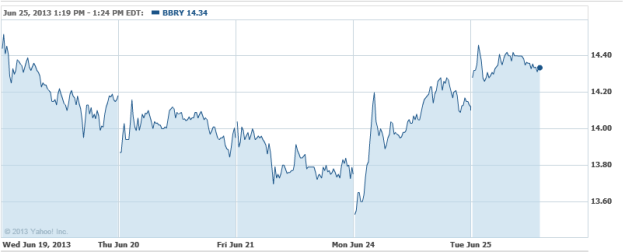 American Capital Agency Corp. (NASDAQ:AGNC): Current price $23.02
American Capital Agency's ex-dividend date is June 26. Shareholders as of market close Tuesday will be eligible for a dividend of $1.05 per share. Based upon a price of $22.91 as of 9:30 a.m. Eastern Time, the dividend yield is 17.9 percent. The average volume for the shares has been nine million shares per day during the past 30 days. Shares were down 18.9 percent thus far in 2013 as of the close on Monday.