Wall Street May Own the House Next Door
Entering the housing market has never been for the faint of heart. The collapse of the market in 2007 and 2008 demonstrated that both conventional wisdom and expert opinion — such as 'prices will always go up' — was at best incomplete. The securitization of bad mortgages agitated the credit crisis in the United States, and the lending environment over the past few years has been characterized by low rates but tight conditions.
Like any analog of a living thing, the market tends to heal itself over time. The recovery has been assisted by certain tailwinds and hindered by certain headwinds, but overall, the housing market has been cited as one of the brightest spots of the overall U.S. economy. Home prices are increasing, sales are climbing, housing starts are rising, and the number of properties underwater on their mortgages is declining.
But the healing process has been far from painless. Low prices and cheap money — thanks to historically low interest rates — in the wake of the crisis has incentivized large institutional buyers to enter housing markets across the nation, competing with individual buyers for a limited number of homes.
A lack of inventory has been a recurring theme of the current recovery. Home prices are rising, but overall prices are still low compared to fundamental value. This relative cheapness is a disincentive to builders, and has put downward pressure on the number of new housing starts.
However, this trend may be showing some signs of turning around. After declining for three consecutive months earlier this year, the National Association of Home Builders/Wells Fargo index of builder confidence posted its second straight monthly gain in June. The index jumped 8 points to reach 52, compared to 44 in May. It was the biggest single-month jump in over a decade (read more on NAHB/Wells Fargo Housing Market Index).
The number of homes bogged down in the foreclosure process also remains relatively high. In some states it can take up to two years to complete the foreclosure process, effectively damning homes to limbo while they wait to be placed back in the market.
Thanks in part to this constraint, home prices have surged recently, recovering much of the ground lost during the crisis.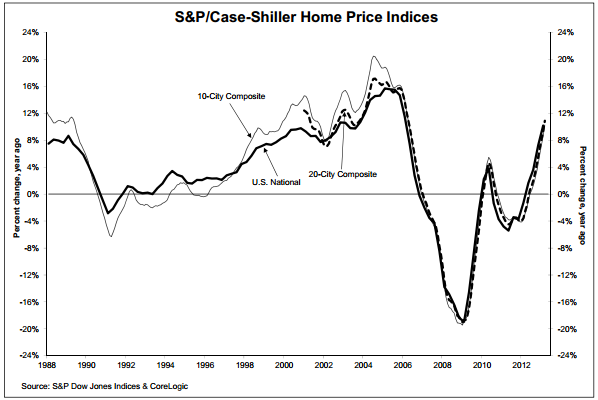 But with room to go and a relatively high proportion of distressed homes on the market — thanks to all that foreclosure activity — institutional interest in the market has been piqued. Most recently, Blackstone Group (NYSE:BX) became the largest owner of single-family homes in the U.S., with 29,000 units in 13 markets. The group just obtained a $1.5 billion credit facility from Deutsche Bank (NYSE:DB) to continue operating in the area.
Other groups such as the Silver Bay Realty Trust (SBY), which owns more than 5,000 homes, are also taking advantage of historically low interest rates to buy distressed homes on margin and reap tremendous returns. Reports indicate that institutional buyers can get leveraged returns of up to 12 percent., with Deutsche Bank behind much of the action.
Gary Berman, chief executive officer of Tricon Capital, told Bloomberg that the first securitization of rent payments from homes bought by institutional investors is just months away. In many ways, this marks the first step toward a new institutional asset class in a space that has traditionally been dominated by small investors.
You can follow Dan on Twitter (@WscsDan)
Don't Miss: Manufacturing Outlook Worsens Despite June Recovery.