Wall Street Optimistically Awaits Alcoa Numbers and 2 More Heavily Traded Stocks to Follow
Alcoa Inc. (NYSE:AA): Current price $7.96
According to Forbes, Wall Street is optimistically waiting for Alcoa's third quarter results on Tuesday, October 8. Analysts forecast a profit of 6 cents per share, marking a rise from 3 cents per share year-over-year. The consensus has risen over September, from 5 cents, but that  is still less that the estimate of 10 cents as of three months ago. For the fiscal year, analysts are predicting earnings of 32 cents per share, and they expect revenue to slip 2 percent year-over-year to $5.71 billion for the quarter, after $5.83 billion in the 2012 period. For the year, revenue is projected to roll in at $23.05 billion.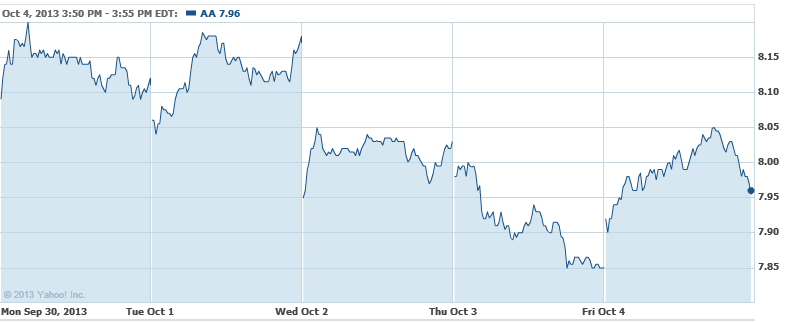 Microsoft Corp. (NASDAQ:MSFT): Current price $33.90
Knowledgeable sources report that Microsoft is talking to HTC Corp. about adding its Windows operating system to the latter's Android-based smartphones at little or no cost, which is thought to be evidence of the software maker's struggle to gain traction in the mobile market. The chief of Microsoft's operating systems business, Terry Myerson, requested in September that HTC load Windows Phone as a second option on handsets with Google Inc.'s rival software, according to the sources, who also said that Myerson talked about reducing or eliminating the license fee to make the idea more enticing, but that the discussions are preliminary and no decision has yet been made.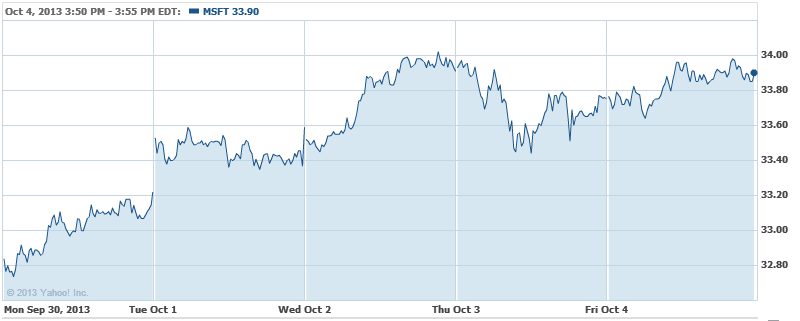 Genworth Financial, Inc. (NYSE:GNW): Current price $12.90
Genworth and its wholly-owned subsidiary Genworth Holdings, Inc., announced Friday the entrance into a credit agreement that provides Genworth Holdings, Inc. with a three-year $300-million, multicurrency revolving credit facility, with a sublimit of $100 million for letters of credit. The proceeds of the loans may be employed for working capital and general corporate purposes. The obligations through the credit agreement are unsecured and payment of Genworth Holdings, Inc.'s obligations is fully and unconditionally guaranteed by Genworth Financial, Inc.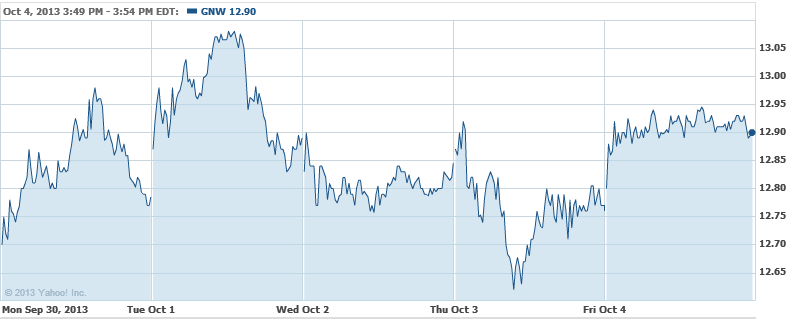 Don't Miss: Finally, A Victory for BP and Relief for Shareholders.