Wall Street vs. Main Street: This Is the New Way of Banking for Main Street
The current economic landscape has given way to a new and larger divide between Wall Street and Main Street.  The volume has been turned up on this development as the Occupy Wall Street movement takes hold, but also as big Wall Street banks (NYSE:KBE) continue to make headlines.  Wall Street and politicians alike argue that it will take time to mend the downturn, and actions are being discussed or implemented to solve the crisis.  Unfortunately, a look at the new way of banking for Main Street reveals that Americans are quickly running out of time.
Super Hot Feature: Is Bank of America About to Go Bust?
On Tuesday, Goldman Sachs (NYSE:GS) gave Americans on Main Street another reason to protest the bailed-out Wall Street banks.  With the bank's most recent earnings report, Zero Hedge calculates that the average pay per employee for the trailing 12 months came in at a whopping $358,713.  To add insult to injury, Goldman's CEO Lloyd Blankfein, was recently ranked the 8th highest-paid bank CEO with $14.1 million in annual compensation.  While it is certainly no crime to make a good living, Americans get frustrated when they are on the hook for when these well-paid banksters assist in causing an economic collapse.  Recent developments also illustrate that the deception is still alive and well.  Bloomberg reports that Bank of America (NYSE:BAC) has moved up to $53 trillion in derivatives from its Merrill Lynch unit to a subsidiary flush with insured deposits.  The Federal Reserve approves of the transfer, while the FDIC does not because it would have to pay off depositors if the bank fails.  The FDIC is backed by the US Treasury, so essentially, it is the taxpayer on the hook, again.  While the actions of Wall Street banks have caused thousands to protest in the streets and switch to credit unions, many people are now turning to other forms of banking in order to survive in the new economy.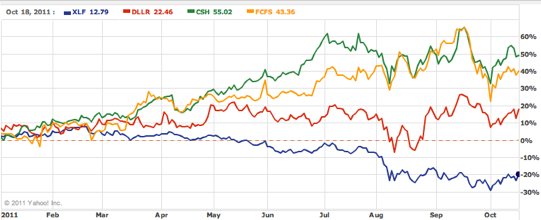 With the official unemployment rate remaining over 9%, and the broader U-6 unemployment rate over 16%, Main Street has turned to a new form of banking that does not require the scrutiny of major banks.  Payday lenders and pawn shops are booming in this economy.  As the chart above shows, Cash America International (NYSE:CSH), which provides cash advances and pawn loans, is having a stellar year.  Shares hit an all-time high in September, and are up 44% year-to-date.  Competitors DFC Global Corp (NASDAQ:DLLR) and First Cash Financial Services (NASDAQ:FCFS) are also performing well when compared to the Financial Sector SPDR (NYSE:XLF), which top holdings include Wall Street banks such as Goldman, Bank of America, Wells Fargo (NYSE:WFC), JP Morgan (NYSE:JPM), Morgan Stanley (NYSE:MS), and Citigroup (NYSE:C). Year-t0-date, the XLF has lost about 20%.
Latest Bank News: Citigroup Finally Pays for Screwing Clients.
The WSJ reports, "People like pawn shops because they can get loans without references or credit checked.  Loan terms are usually in weeks, compared with the months and years offered by banks, and the principal is relatively small.  But the interest rates can be in the triple digits.  In Texas, a person today taking a $500 loan from Cash America (NYSE:CSH) would have to repay $602.29 in two weeks.  That is an annual percentage rate of more than 533%.  In contrast, Citigroup Inc.'s Citibank unit offers personal loans to qualified borrowers at APRs ranging from 10.49% to 25.49% over a period of 24 to 60 months."  The keyword there is "qualifying."  In the current economy, many people on Main Street can not get a loan from a traditional bank.  It does not matter how high the interest rate is, people need the money and have nowhere else to get it. The outperformance of payday and pawn shop companies will continue to be an important factor to watch as Main Street continues to feel the pain delievered from Wall Street.
Investing Insights: Will Weak Bank Earnings Force Investors into Gold?