Wall Street's Poster Boy Named Bank of the Year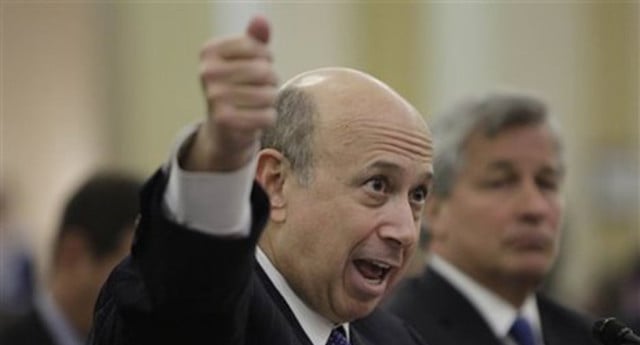 The combination of regulatory requirements, reputation issues, and serial investigations was not enough to prevent one of Wall Street's oldest poster boys from receiving a prestigious award.
The International Financing Review recently named Goldman Sachs "Bank of the Year" for 2013, which noted the bank's ability to increase market share amid heavy criticism and economic headwinds. Goldman is no stranger when it comes to public outrage. In fact, Matt Taibbi from the Rolling Stone once called Goldman a "great vampire squid wrapped around the face of humanity, relentlessly jamming its blood funnel into anything that smells like money."
Goldman CEO Lloyd Blankfein is well aware of the issues, and even downplayed the award. "Given the context and the legacy issues we're working through, it's hard for me to thump my chest over anything other than maintaining focus where other people have found it hard to maintain focus," he told IFR. "The only thing that's close to a brag is that we had more reason than others to lose focus — and we didn't."
This year, Goldman obtained 39.5 percent of domestic mergers and acquisitions, and 36 percent of European mergers and acquisitions. During the IFR Awards year, Goldman was also number one in global equity capital markets with a market share of 11.3 percent, up from only 8.4 percent in the previous year. In the United States, its equity capital markets share surged nearly 5 percentage points to 15 percent.
David Solomon, co-head of Goldman's investment banking division, told IFR that he feels equally good about the advisory achievements. The firm was front and center of many of the year's largest, most significant and complex transactions across the trade and private equity arenas.
"We feel good about having grown our M&A market share. I point to the Verizon deal in particular because it's reflective of what it means to have an M&A franchise. This is a transaction that the team that worked on it started some 13 years ago. The team has been relatively consistent through that period, so there are people who have been involved with this the whole time," he said. "But this is what we do. We build long-term relationships, we build trust and confidence."
Although memories of the financial crisis are still fresh, customer satisfaction is also on the rise in regards to retail banking. Rising satisfaction with banks, credit unions, health insurance, property and casualty insurance, and life insurance firms pushed the national level of customer satisfaction to a new high in the third quarter of 2013, according to the American Customer Satisfaction Index. On a scale of 0-100, the index increased 0.3 percent year over year to 76.7. Meanwhile, customer satisfaction for banks jumped 1.3 percent over the past year to reach a reading of 78. Customer satisfaction with retail banking is back to its pre-recession level.
"Even though banks have raised fees again, the 15th straight year of such increases, no negative repercussions have been detected regarding customer satisfaction," said Claes Fornell, ACSI founder and Chair. "In part, this is because a fair number of consumers are changing their behavior to avoid the fees by exclusively using their own bank's ATMs and maintaining sufficiently large account balances."
Don't Miss: PIMCO: Get Ready for More Global Growth in 2014
Follow Eric on Twitter @Mr_Eric_WSCS