Wally World Protestors: "Wal-Mart Wages Hurt America"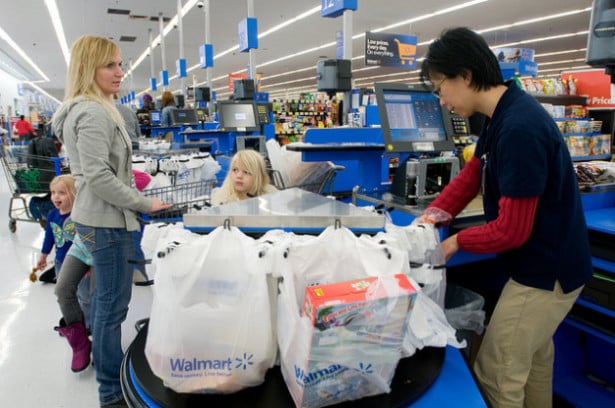 It wasn't all quiet on the Wal-Mart (NYSE:WMT) front Thursday night as protestors organized outside a Wal-Mart store in Los Angeles, demanding better wages for the company's workers. According to Reuters, the protest was organized by a union, and more than 50 people were arrested as they held up signs that read "Wal-Mart Wages Hurt America." The protestors were taken into custody after refusing an order by officers to disperse, and they were held overnight on $500 bail.
Reuters reported early Friday morning that the demonstration was organized by the Los Angeles County Federation of Labor, and the activists' objective was to highlight the role Wal-Mart plays in the nation's problem of  income inequality, as Glen Arnodo, staff director of the union explained, "Wal-Mart really perpetuates and epitomizes the unequal distribution of wealth we have in this country right now." This isn't the first protest Wal-Mart has suffered over its wage practices, and it likely won't be the last, but the store executives in Los Angeles still didn't seem particularly phased by the organizers Thursday night, and the company went about its business and remained open as protestors sat outside the retailer's store, chanting and holding up signs.
Wal-Mart spokesman Kory Lundberg said Thursday, "We've seen time and again there are virtually no [Wal-Mart] associates participating in these orchestrated events because they know the truth about working for Wal-Mart. We provide our associates with more opportunities for career growth and greater economic security for their family than many other companies in America."
According to Reuters, Arnodo didn't specify whether any of his activists were Wal-Mart employees, possibly to protect their identity, but the director did maintain that the demonstrators who took part in the protest were union members, community activists, and others.
The demonstration comes just as Wal-Mart prepares for its busy holiday shopping season, and it also serves as a clear reminder of what happened around this time last year when many Wal-Mart shoppers chose Black Friday to walk out on the job and campaign for higher wages. According to Bloomberg, on the biggest shopping day of the year, workers organized outside about 1,000 Wal-Mart stores, and asked for for more full-time jobs with predictable schedules.
The demonstration was led by OUR Walmart, or Organization United for Respect at Walmart, and organizers chanted for hours on end, "Stand up! Live better!" a play on Walmart's slogan, "Save money. Live better." Thus, it's the same story, different year — we'll just have to wait and see if Wal-Mart listens.
Investing Insights: Will J.C. Penney Continue to Be Vulnerable With Upcoming Earnings?