Wal-Mart Must Address These Growing Threats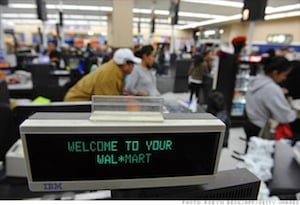 While most businesses suffered horribly during the economic meltdown of 2008-2009, Wal-Mart (NYSE:WMT) was one company that seemed impervious to damage. Sales continued to bolster the retail mammoth's cash hoard and grow its global empire. As consumer sentiment hit a six-year high in early May, some believe Walmart faces serious threats from online shoppers and stores selling higher quality goods.
Studies showing how Wal-Mart does better when the economy is bad make sense for a variety of reasons. The most basic — that consumers have no choice but to accept inferior goods at lower prices — pointed shoppers to Wal-Mart aisles as soon as cash-strapped Americans started tightening their belts . Conversely, positive economic indicators now popping up everywhere are accompanied by a 1.4 percent dip in sales in the first quarter for Wal-Mart.
For anyone skeptical about the concept of improved economic conditions, the surging consumer sentiment reported by Reuters is accompanied by increases in home sale prices and auto sales, as well as spending per person at restaurants. Adding to that the record highs on the Dow and S&P 500, the 2.5 percent growth in G.D.P. and rising retail sales can hardly be called a fluke. Only the most pessimistic observers would say the economy is headed for darker times. So why aren't people spending their money at Walmart when they are spending more elsewhere?
As Matthew Yglesias pointed out in Slate, Whole Foods (NASDAQ:WFM) is attacking Wal-Mart's flank in a wholly unexpected way — by lowering its price points on certain goods. Though most people associate Whole Foods with better quality products in general, consumers of any profile who see reduced prices on good brands will buy them in spades. That's giving Whole Foods an edge in cheaper goods as well as organic produce and humanely raised meats, which people are buying in larger quantities. Its sales rose 8.5 percent the last quarter, remarkable for the fact that profit margins grew when the company was lowering prices. Overall company growth was even better.
This trend spells bad things for Wal-Mart. Apologists for the nation's top retailer might point to Wal-Mart's increased online sales — a robust 30 percent compared to 2012 — as a reason to be hopeful. After all, the implementation of Internet sales tax bill could be a negative thing for Amazon (NASDAQ:AMZN), the champion of online retail. Yet Amazon's sales also increased 22 percent and, overall, Amazon earned far more online than Wal-Mart. Its sales are expected to grow over 30 percent in the coming years. If Wal-Mart gets boxed out on groceries by Whole Foods and online sales by Amazon, it might have to wait for an economic downturn that might never happen to continue growing its business.
Investing Insights: Will Macy's Continue to Make New All-Time Highs?