Walt Disney Company Added to Stifel's Select List and 2 Other Dow Movers to Watch
The Walt Disney Co. (NYSE:DIS): Current price $66.91
On Friday, The Walt Disney Co. was added to Select List at Stifel. The firm raised its estimates on Disney, prompted by an acceleration in the company's share repurchase plan, together with higher-than-anticipated sales of the Infinity video game. Stifel maintains a Buy on the stock, which is up by 1.15 percent Friday.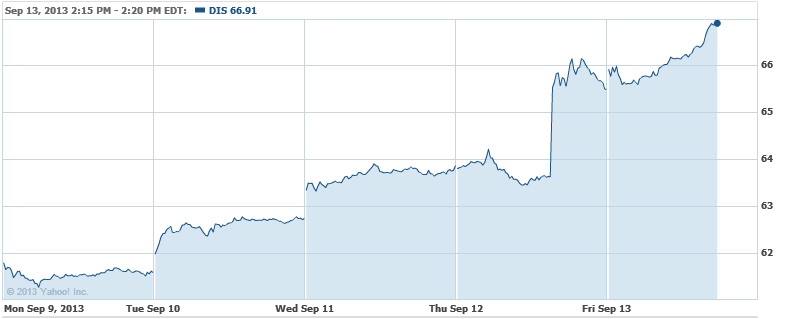 The Boeing Co. (NYSE:BA): Current price $110.60
Over two decades after the gigantic plane was introduced while the Cold War wound down, Boeing has delivered the last C-17 built for the United States Air Force. Military officials took delivery of the C-17 Globemaster III, marking the 223rd sold to the Air Force, during a ceremony on Thursday attended by hundreds of workers at the Long Beach assembly facility. Engineer Bob Grech, who came to the project 19 years ago, observed that, "It was a long run with the U.S. military, and it was a good run." The four-engine C-17 made its maiden flight in 1991, and military deliveries commenced some two years afterwards.

UnitedHealth Group Inc. (NYSE:UNH): Current price $74.53
UnitedHealth announced it has been placed on the Dow Jones Sustainability North America Index and the Dow Jones Sustainability World Index. The insurer was recognized as among the top firms globally for economic, environmental, and social excellence, and sustainability performance with a strong concentration upon long-term shareholder value.
The Dow Jones Sustainability Indices were the premier global indices created to track the financial performance of the major sustainability-driven companies worldwide. UnitedHealth Group has been included in the DJSI for 15 consecutive years, since the indices were set up in 1999.

Don't Miss: 3 New Technologies Aiming to Redefine Television.