Walter Energy Faces Investor Revolt and 3 Stocks At 52-Week Lows
Molycorp (NYSE:MCP): Closing price $5.45
According to the Nikkei, demand in Japan for rare earth metals in on the decline, as makers of home appliances and autoparts try to gradually break from using the elements because of fears in regards to procurement risks from China. Shares closed up 1.87 percent on Wednesday at $5.45, and have been traded in a 52-week range of $5.23 to $35.79.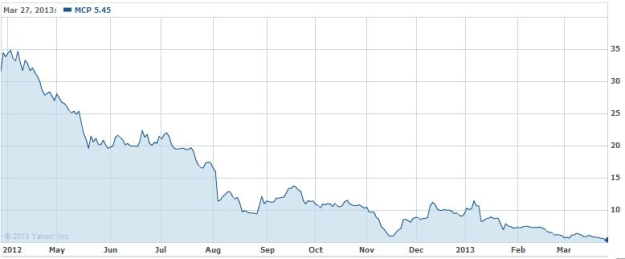 Saratoga Resources (AMEX:SARA): Closing price $2.68
Saratoga has posted its fourth quarter earnings at 9 cents, over consensus at 8 cents. Shares closed down 0.37 percent on the day at $2.68, having been traded in a 52-week range of $2.63 to $7.55.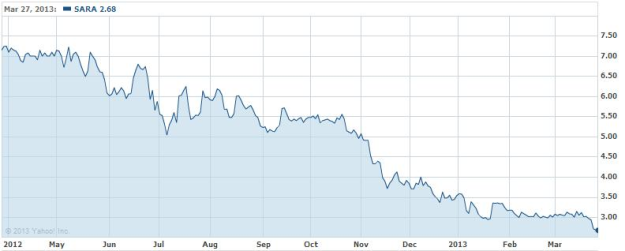 Virnetx Holding Corp (AMEX:VHC): Closing price $19.32
SAIC (NYSE:SAI) disclosed in its yearly filing Wednesday that Apple (NASDAQ:AAPL) might appeal the $368 million-patent verdict in its favor. In November, a jury decided that Apple infringed two of the patents that SAIC had previously transferred to VirnetX and awarded about $368 million to the latter. Under its agreements with VirnetX, SAIC would receive 25 percent of the proceeds obtained by VirnetX in the lawsuit. In February 2013, the judge ruled against Apple, consistent with the jury verdict; however, SAIC says that the judgment may be appealed. Shares closed down 0.16 percent on the day at $19.32, and have been traded in a 52-week range of $21.25 to $41.93.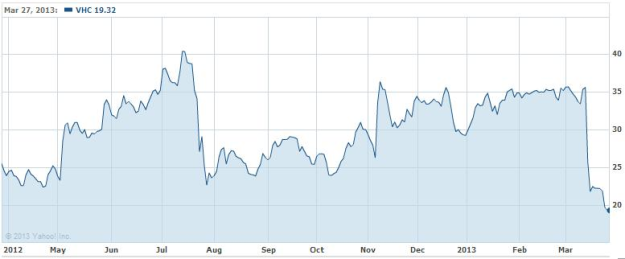 Walter Energy (NYSE:WLT): Closing price $29.15
Audley Capital Advisors issued the following letter to stockholders of Walter Energy regarding its five nominees for election to its boards at the firm's upcoming 2013 Annual Meeting of Stockholders on April 25th. Audley urges Walter Energy's stockholders to vote the GOLD proxy card for its five highly-qualified and director nominees. Managing Partner of Audley Capital Advisors Julian Treger said, "We are disappointed with Walter Energy's blatant attempts to cast a shadow on the strong credentials of our five highly-qualified and experienced director nominees. We believe that this is the company's attempt to divert attention from its continued underperformance and distract stockholders from the value that these accomplished professionals will bring to the Board. We continue to believe that our director nominees can work to implement the changes necessary to correct the financial and operational missteps of the current Board." Shares closed up 4 percent on Wednesday to $29.15, having been traded in a 52-week range of $27.88 to $69.41.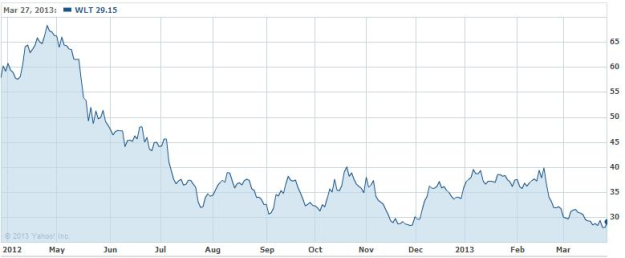 Don't Miss: Will Debt Ruin Your Retirement?