Want to Live at Work? Facebook Employees Probably Do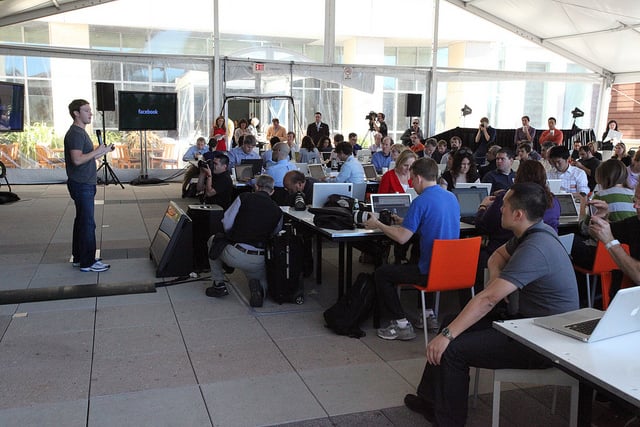 Some company employees complain about having to take their work home with them, but for many of those employed by the No. 1 social network, there will soon no longer be that distinction.
That's because Facebook (NASDAQ:FB) announced this week that it is constructing a $120-million, 394-unit housing community that will sit within walking distance of its offices in Menlo Park, California. The new rental property will span 630,000 square feet and will offer employees a convenient and affordable place to live that is near the Facebook campus.
The Wall Street Journal highlighted the details of Facebook's future housing community on Wednesday, pointing out that just like its illustrious corporate grounds, the property will include over-the-top amenities that range from dog-sitting to bike maintenance to entertainment offerings. Employees won't be required to live in the new development — it can only house about 10 percent of Facebook's Menlo Park employees — but after witnessing what the new community has to offer, many may very well opt to live at work.
According to the Journal, Facebook's new construction plans aren't provoked by a desire to draw in more employees — rather, they are meant to help the company better support those it already has. Real estate prices in the Silicon Valley area are now soaring, and Facebook reportedly wants to ensure that its workers have access to affordable and convenient housing, and aren't subject to increased anxiety over available accommodation.
It also isn't surprising that Facebook has launched an effort to better support its employees, considering the social media giant has long been known for its extravagant company perks and advantages. The Wall Street Journal reports that Facebook prides itself on providing for its employees as much as possible — that includes taking care of their transportation, laundry, dry cleaning, hairstyling, etc.
And yes, there is an "etc." Facebook employees aren't shy about their company's many advantages, and confirmed to the Journal that they all participate in activities that include company game days, movies on a stadium-style outdoor television screen, bonding over free lattes and ice cream, and "walking meetings."
That's why the report of a new, fancy Facebook housing community is not entirely out of the norm for the company. Employees may not have even batted an eye when they heard of the construction. However, as one would expect, there are certainly disadvantages to living at work, and a beautiful park and illustrious building plan aren't going to change those.
The Wall Street Journal highlights the past existence of "company towns" that once populated much of the U.S. landscape around the turn of the 20th century. Back then, company workers purposely lived together in clusters in order to form communities with whom they were most similar.
But the idea of the company town eventually became extinct, and that wasn't a fluke. Both then and now, employees relish the opportunity to step away from their work and coworkers at the end of a long day — and, especially in the changing age of technology and the hyper-competitive nature of the industry, Facebook workers could have an ever harder time doing that if they live just steps away from their latest technological breakthrough.
Still, the social network believes that the housing development will purposefully serve many and offer a convenience that can't be quantified. The company reports that all of its new apartments will go for market value, but some will be set aside for low-income residents.
Don't Miss: Status Update: Facebook Is Getting Creepier.