Want to Score a McDonald's Deal? There's an App for That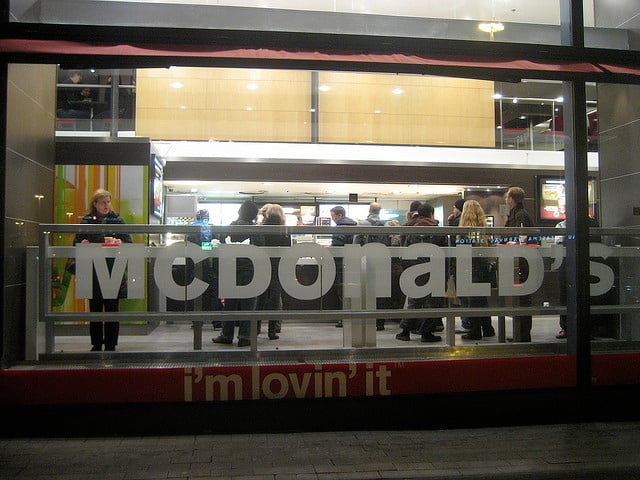 Are you looking for a deal on your McDonald's (NYSE:MCD) Big Mac? You're in luck — there's an app for that. Or at least there will be, as long as the world's largest fast food chain sees success with its newest sales strategy.
According to the Chicago Tribune, McDonald's is testing a mobile application called McD in 1,000 stores that sends customers offers they can redeem with their phones at participating locations. Users can't pay or order with the app, but they can clarify what kind of deals they are interested in, meaning a vegetarian won't get a deal for a buy one, get one a Big Mac, and a burger-loving carnivore won't get $1 off the next salad.
The Oak Brook, Illinois-based company started testing McD about a year ago in San Francisco, and now St. Louis and Boston also host participating stores. Spokeswoman Lisa McComb said to the Tribune that the app can be downloaded anywhere, but consumers can only cash in on deals in participating areas.
She told the newspaper, "It's premature to speculate on the future of the McD App," but McDonald's did file a trademark on November 25 for McD to be used as "downloadable software in the nature of a mobile application in the field of restaurant services, food delivery services, and restaurant locator" — so it seems as if company could be seeing success with its trial run thus far.
It's not entirely surprising that the fast food giant has worked to develop its own mobile app, as several of its competitors, including Chipotle (NYSE:CMG) and Five Guys Burgers, have already employed such tactics to bolster their businesses and get consumers excited about deals they can secure on their smartphones.
McDonald's has always competed with fast food lookalikes like Burger King (NYSE:BKW) and Wendy's, but now that consumers are becoming more health conscious and more likely to go for fresher, more high-quality ingredients, McDonald's has new rivals like Chipotle on its hands. Now more so than ever, it needs to continue driving sales.
The Chicago Tribune reports that the difference between places like McDonald's and Burger King and restaurants like Chipotle is the different consumer base the businesses attract. McDonald's has been known to appeal to a slightly older, more cost-conscious crowd, while Chipotle attracts a generally younger and higher-income base.
That's why Sara Senatore, a Sanford J. Bernstein & Co. analyst who spoke to the Tribune, believes Chipotle has seen such significant success with its app but is hesitant to forecast whether McDonald's will find the same outcome. Because millennials are constantly on their phones and up to date with the latest ways to score deals, many have taken to Chipotle and Five Guys' mobile apps, but it is possible McDonald's older consumer base won't show as much as an interest.
Nonetheless, McD was created by Atif Ratiq, McDonald's new chief digital officer and the man previously responsible for Amazon.com's (NASDAQ:AMZN) Kindle Direct Publishing unit, so the company is confident that its dive into technology could be fruitful. And let's hope so, because the Tribune reports that U.S. same-store sales dropped 0.8 percent in November. McDonald's needs a new strategy for its home market, and it needs it fast.
Don't Miss: Hilton Makes Triumphant Return to the NYSE.