Warner Music Group Corp. (NASDAQ:WMG) reported its results for the second quarter. Warner Music Group Corporation is a music content company which is composed of two businesses; Recorded Music and Music Publishing.
Don't Miss: Wall St. Cheat Sheet's newest Feature Trades of the Month!
Warner Music Group Corp Earnings Cheat Sheet for the Second Quarter
Results: Loss widened to $38 million (25 cents/diluted share) from $25 million (loss of 17 cents/share) in the same quarter a year earlier.
Revenue: Rose 2.4% to $682 million YoY.
Actual vs. Wall St. Expectations: WMG beat the mean analyst estimate of a loss of 28 cents/share. Estimates ranged from a loss of 27 cents per share to a loss of 28 cents per share.
Quoting Management: "Our focus on disciplined A&R investments, successful revenue diversification and innovative digital strategies has helped us to grow both our Recorded Music and Music Publishing revenue," said Edgar Bronfman, Jr., Warner Music Group's Chairman and CEO. "We are excited to see our digital revenue approach the 50% milestone for U.S. Recorded Music and to see 60% of our active global artist roster signed to expanded-rights deals. "Our artist development efforts balanced against ongoing cost-management efforts enabled us to support our OIBDA margins in the quarter, and position us well for the long term," added Steven Macri, Warner Music Group's Executive Vice President and CFO.
Key Stats:
A year-over-year revenue increase last quarter snaps a streak of four consecutive quarters of revenue declines. The worst quarter in that span was the third quarter of the last fiscal year, which saw a 15.2% decrease.
Competitors to Watch: STELLA Entertainment AG (NYSE:SEA), CenterStaging Corp. (CNSC), Live Nation Entertainment, Inc. (NYSE:LYV), UOMO Media Inc. (UOMO), News Corporation (NASDAQ:NWSA), Creative Entertainment Group Plc (CEGO), Chrysalis Group Plc (NYSE:CHS), and NMC United Entertainment Ltd. (NMC)
Stock Performance: Shares of WMG are down 0.1% from the previous close.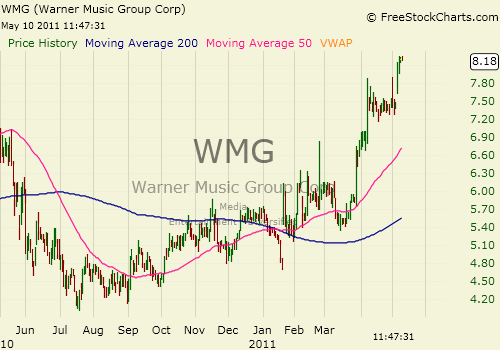 Don't Miss Wall St. Cheat Sheet's newest Feature Trades of the Month!