Warren Buffett Picks a WINNER with Walmart
The 13-F statement is a quarterly report of equity holdings required by managers that oversee more than $100 million in qualifying assets. The form is often used to provide a peek at what well-known hedge fund managers did in the previous quarter. One of the most closely watched money managers is billionaire Warren Buffett, chairman and CEO of Berkshire Hathaway Inc. (NYSE:BRKA). While investors should keep in mind that hedging and trading strategies of each manager are still unknown, Berkshire provided investors with a great starting point on retailer giant Walmart Inc. (NYSE:WMT).
In a May 15th filing with the Securities and Exchange Commission, Berkshire revealed that it increased its stake in Walmart by 7.67 million shares to a total of 46.7 million shares during the first-quarter of 2012. The move represented a 20 percent increase from the previous reporting period and placed Walmart as one of Berkshire's largest holdings, behind other Buffett favorites such as Coca-Cola Inc. (NYSE:KO) and Wells Fargo (NYSE:WFC). It appeared to be a rather unusual move by Berkshire at the time, but the economy has favored Walmart heavily over recent weeks.
Don't Miss: Apple to RIM: Thanks for A HAPPY ANNIVERSARY!
Despite a Mexican bribery scandal being exposed in April, shares of the world's largest retailer have gained almost 13 percent since the end of March. Walmart has benefited from falling gas prices, as well as a weak overall economy. Since peaking at $3.93 a gallon in April, gas prices at the pump have declined to $3.33, according to AAA. As a general rule, a one cent decrease in pump prices adds $1 billion of disposable income to the public. Thus, the recent decline in prices have added roughly $60 billion of incremental income to U.S. consumers. However, with unemployment still at elevated levels, consumers are not feeling more confident about the economy. The latest consumer confidence reading declined in June to its lowest level this year.
When consumers feel less confident, they tend to spend less money and Walmart is known for stretching dollars. According to a study by consulting company Kantar, Walmart's prices for both online and in stores are 20 percent lower on average than online retailing juggernaut Amazon.com Inc. (NASDAQ:AMZN). In March, Walmart also announced a $2 billion plan to reinvest in low prices across areas such as food and consumables in order to drive more traffic to its nearly 4,000 U.S. stores.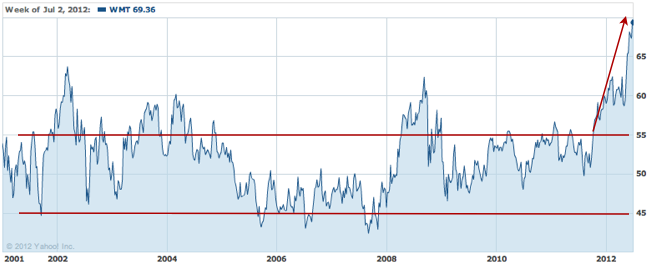 As the chart above shows, investors are running towards Walmart like never before. Although shares remained mostly in a range between $45 and $55 over the past decade, Walmart broke to the upside this year. On Monday, shares hit as high as $69.95, making new multi-year highs and a pleasant day for shareholders as the company celebrated its 50th anniversary.
Love or hate Walmart, investors can at least heed the warning that capital flows into the recession-proof company is sending. The global economy is slowing down and investors should take appropriate actions to protect their portfolios. Growth rates across the globe continue to fall and consumers are strapped for cash as they struggle to find employment. Throw in an European insolvency crisis into the mix and the outlook for the rest of the year becomes even more uncertain.
Investor Insight: Here are the STUDS and DUDS of the DOW for 2012