Watch Companies Rushing for Cheap Money Before the Spigot Closes
Given the approaching end of the Federal Reserve's support for financial markets, companies are scrambling to borrow money while interest rates remain low.
The week has been one of the busiest so far this year. Google Inc. (NASDAQ:GOOG) sold its first bond ever and Johnson & Johnson (NYSE:JNJ) arranged its biggest purchase on record Tuesday. All told, Bond sales in May have reached $56.7 billion, nearly surpassing the $59.6 billion sold in the entirety of April.
Borrowing is especially attractive right now for two primary reasons: low interest rates and the impending end of the Fed's $600 billion Treasury-bond (NYSE:TLT) buying program. While companies have been accruing debt as a result of the low interest rates that have endured throughout the past two years, in recent weeks, rates have descended to the lowest level of the year. In addition, the end of the Fed's Treasury-bond buying program in June will certainly result in elevated interest rates, compelling companies to borrow while the option is still affordable.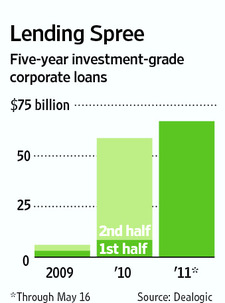 The impending conclusion of the Fed's program has led many to express concern about the prospect of severe disruptions within the financial markets. Analysts have suggested that recent volatility in the stock market (NYSE:SPY) owes itself to the Fed's oncoming departure. The Dow (NYSE:DIA) has reached its lowest level in a month. Many worry that once the Fed withdraws, rates could move very rapidly and investors will cease to pursue riskier assets. Moreover, when rates start rising, the buyers of the debt (pensions and mutual funds) stand to lose.
In spite of these impending concerns, as we've noted in our Wall St. Cheat Sheet Investment Newsletter, several companies selling bonds this week have been using the money to fuel expansion rather than paying off existing debt or "sitting" on the funds. This bodes well for the health of the economy and for employment as companies pursue an array of capital expenditures. Ideally this momentum will carry through the Fed's departure.
Don't Miss: Is the US Treasury Robbing Peter to Pay Paul?