Watch Out Economy, Chicago PMI Dropped to 4-Year Low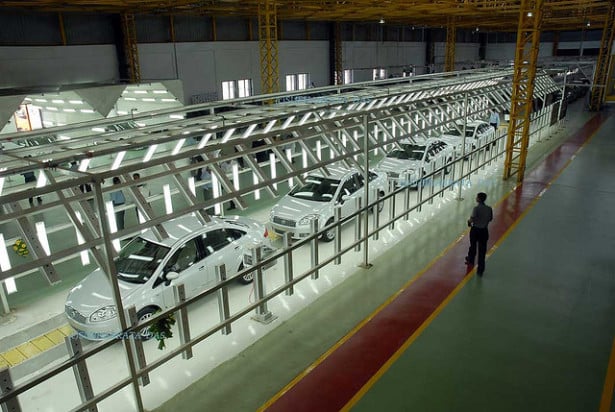 Based on the Chicago Purchasing Manager's Index, growth in business activity has slowed sharply this month. Growth in Chicago-area manufacturing decelerated in June, with the business barometer falling to a 51.6 reading from the 14-month high of 58.7 recorded in May, missing economists' expectations for a 55.0 reading. That drop represented the largest monthly decline since October 2008, although economists did note that May's reading was unusually strong. Big moves are not usual for this index
Of the five business activity measure that comprise the business barometer, four posted declines in June, while only the employment indicator increased. Of particular concern was the contraction in order backlogs that pushed the measure to its lowest level since September 2009 and was the single biggest drag on the overall index. Other details were consistent with slowing economic growth; delivery times shortened and price pressure for raw materials rose slightly.
Growth may be slowing, but a reading over 50.0 still indicates an expansion of business activity rather than contraction, and the index came in just above that level. To keep the business barometer remaining in growth territory, there was some positive data within the report; production rose solidly even if it was at a slower rate than in May, while employment picked up during June.
But, even though some of the details were positive, the Dow Jones Industrial Average slipped just after the report was released. Just before 11 a.m., the index was down 0.48 percent at 14,952.22.
Commenting on the data, Philip Uglow, Chief Economist at MNI Indicators said, "Activity dropped back in June following the large rise in May. The trend level of the Barometer has picked up since the fourth quarter of 2012, and while these latest data point to some weakening between the first and second quarter, it is too early to say if this will continue." Many economists believe that economic growth slowed significantly in the second quarter, and the Chicago PMI serves to support that thesis. Current estimates for United States economic growth between April and June range between a 1.5 percent and a 1.9 percent annual pace.
Chicago's results contrast sharply with the picture of economic growth reflected in the Dallas Federal Reserve Bank's Manufacturing Survey. This month's data showed notably stronger manufacturing activity and a rebound in perceptions of broader business conditions; the headline general business activity index jumped to a reading of 6.5 from deeply negative territory.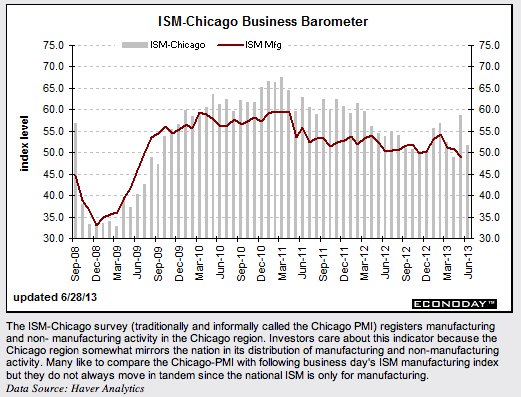 Follow Meghan on Twitter @MFoley_WSCS
Don't Miss: Are Western Banks Increasing Their Presence in China?