Watch Out! Fed-Induced Bubbles Are Losing Time
Intense price action in Japan and news from Dr. Bernanke injects a whiff of fear into global financial markets.
Global financial markets were roiled last week by action in Japan and comments from U.S. Federal Reserve Chairman Ben Bernanke in his testimony on Capitol Hill. For the week, the U.S. stock market took its first loss in five weeks as sellers took control, at least briefly, after the seemingly unstoppable run up that started in mid April.
For the week, the Dow Jones Industrial Average (NYSEARCA:DIA) fell 0.3 percent, the S&P 500 (NYSEARCA:SPY) dropped 1.1 percent, and the Nasdaq Composite (NYSEARCA:QQQ) declined 1.1 percent. The Russell 2000 (NYSEARCA:IWM) declined 1.2 percent.
On My ETF Radar
In the chart of the S&P 500 we can see how the index's RSI has declined out of overbought territory above 70 to settle at 61 on Friday, still well above the median level of 50. Momentum took a sudden turn south with daily MACD issuing a "sell" signal by crossing into negative territory, and Fibonacci retracement levels line up between 1550 and 1606 which would indicate first support levels of any potential decline.
The S&P 500 also remains very extended above its 200-day moving average with an 11-percent gap between the 200-day moving average and current price, a level often associated with major stock market tops, and margin interest for April reached a record high of more than $380 billion. The previous record was set in July 2007.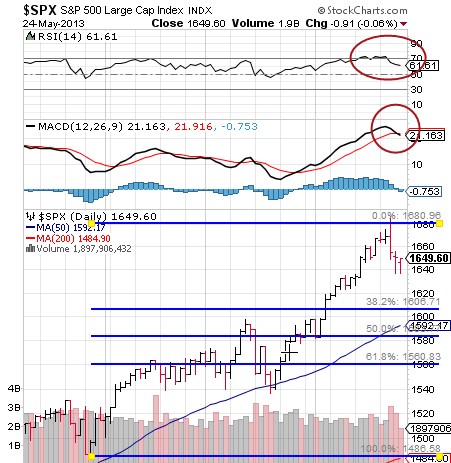 ETF News You Can Really Use
The big news at home last week came from Dr. Bernanke's visit to Capitol Hill during which he said that the Fed could start tapering its quantitative easing program as soon as during the next few meetings. For a global financial market largely dependent upon central bank intervention and action, this was a dash of cold water that put an immediate whiff of fear into the week's action.
The other main event was the sharp volatility in Japan's financial markets as the Nikkei (NYSEARCA:EWJ) collapsed more than 7 percent and intense volatility rocked the Yen (NYSEARCA:FXY) and Japanese bond markets.
The smell of fear seems to be traveling across major asset classes, including gold (NYSEARCA:GLD), real estate (NYSEARCA:IYR), Japan, and the U.S. Bond market (NYSEARCA:IEF) as seen in the charts below: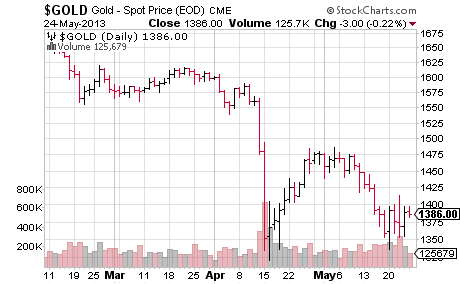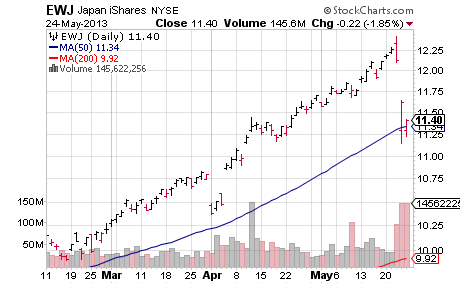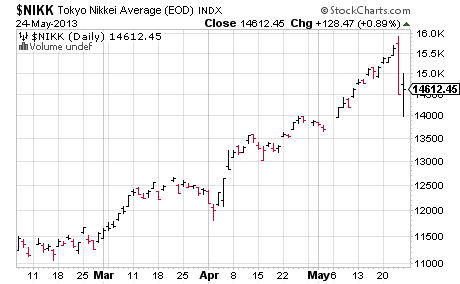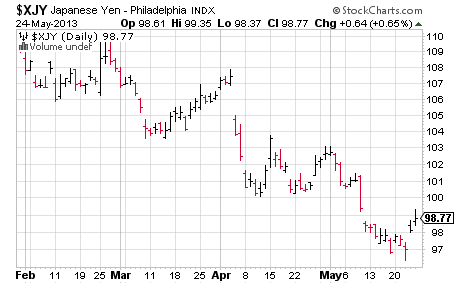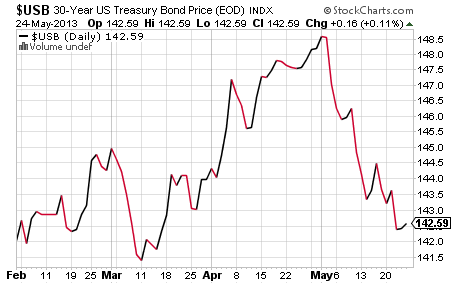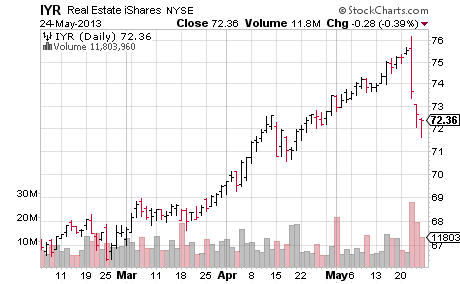 This kind of price volatility across multiple asset classes demonstrates the global financial market's dependence on quantitative easing and shows how fragile the current situation really is. It also demonstrates the predicament in which the Federal Reserve finds itself, i.e., how to "taper" its quantitative easing programs without inserting major instability and the potential for severe declines across the multiple asset classes that have depended upon its easy money programs over the past several years.
However, with VIX still below its long term average, investors across global financial markets still seem to be in denial over the possibility of a reduction to quantitative easing and continue to believe that the Fed "has their back."
Since Dr. Bernanke isn't attending the global Federal Reserve pow wow in Jackson Hole in August, speculation is growing that he might not continue in the Chairman's role when his term expires in January and that a new Fed Chairman could be coronated and make a grand appearance in Jackson Hole in August. This, of course, would add further uncertainty to already uncertain global financial markets.
In economic news last week, new unemployment claims fell and U.S. existing and new home sales increased, along with durable goods beating expectations. On the bad news side of things, China's May PMI came in at 49.6, in contractionary territory as the world's second largest economy joins the ongoing slowdown in Europe and Japan.
This week brings Case/Shiller home prices and consumer confidence on Tuesday, with big news Thursday with weekly jobless claims and another GDP revision. Friday brings a wave of economic news with income and spending reports, consumer sentiment and the closely watched Chicago PMI for May.
Bottom line: Expect intense price volatility to continue across major asset classes as Fed-induced bubbles grow increasingly vulnerable and uncertain. We remain in "red flag" status, expecting high-risk conditions ahead.
John Nyaradi is the author of The ETF Investing Premium Newsletter.
Don't Miss: 5 Commencement Speeches New Graduates Must Watch Now.