Weak Fixed Income Results Dent Citigroup's Latest Quarter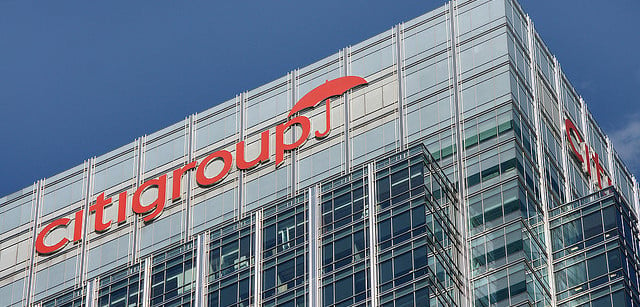 Shares of Citigroup (NYSE:C) are trading down nearly 4 percent in early trading, following its earnings report that saw a surge in year-over-year net income, though the report overall fell largely short of Wall Street's expectations. Quarterly net income spiked to $2.7 billion — about 85 cents per share — though total revenue of $17.8 billion declined slightly.
Earnings of $2.6 billion — 82 cents a share — after adjustments were also slightly lower, the New York Times reported, as analysts had anticipated 95 cents a share in earnings, riding on $18.2 billion in revenue. Citigroup's fixed-income trading business was the primary factor in the shortfall, after trading losses put a dent in Citigroup's third-quarter, as well.
Rubbing salt in Citi's trading wounds is the recent quarterly reports from JPMorgan Chase (NYSE:JPM) and Bank of America (NYSE:BAC), both of which saw firm improvements in their trading divisions. However, Citigroup's trading and banking business fell $200 million, to $4.6 billion over the year prior, largely due to its fixed-income trading operations.
"Although we didn't finish the year as strongly as we would have liked, we made substantial progress toward our key priorities in 2013,'' said Citi's CEO Michael Corbat, in a statement. Corbat is just over a year into his job at the bank.
As consumer lending is remaining slow and trickling — the economy has not yet picked up enough steam to propel that area forward — banks like Citigroup are finding a larger reliance on trading and investment banking to make up for the revenue shortfalls. Citigroup pointed to a drop in mortgage refinancing activity as weighing on its consumer lending, which as been a consistent issue among its peers. On a brighter note, Citi Chief Financial Officer John Gerspach said that the quarter saw the stabilization of the bank's mortgage revenues, and moving on, he doesn't expect them to shrink.
More From the Wall St. Cheat Sheet: