Weak ISM Manufacturing Report Confirms Negative Outlook
Manufacturing activity in the United States contracted in May for the first time since November 2012, according to the latest Manufacturing ISM Report on Business. Even though overall economic conditions improved for the 48th consecutive month, manufacturing continued its decline from February highs and fell into negative territory in May.
The ISM report adds to a growing body of manufacturing data that suggests U.S. — and global — manufacturing conditions remain dubious. At best, economists are forecasting that manufacturing output adds modestly to second-quarter gross domestic product. At worst, the contraction could fuel headwinds, particularly in the labor market.
The widely-watched employment component of the index fell 0.1 points to 50.1 in May. This is the component's 44th consecutive month of growth, but the trend may be abandoned if overall conditions continue to slide. At minimum, a change in direction in new orders and production means a slowdown in hiring, if not workforce reductions.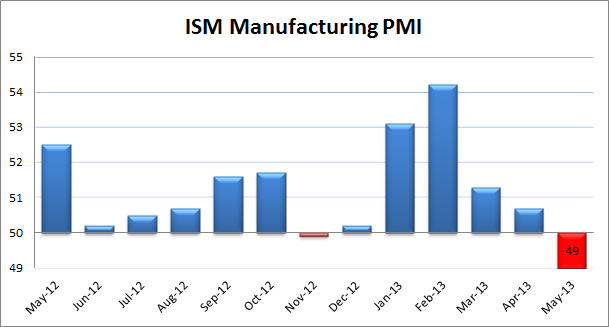 The ISM report surveys market participants and asks them about the status of the various components. For new orders and production, which can both be used to gauge demand, the survey asks if firms are experiencing better, the same, or worse demand compared to the previous month. The net change is reflected in the index.
Monday's ISM report goes hand in hand with a separate manufacturing PMI report released by Markit. Markit's report showed manufacturing PMI increasing slightly to 52.3, indicating expansion at a faster rate than before, despite a slowdown in output.
Markit Chief Economist Chris Williamson said that "the short-term outlook is one of subdued growth at best, suggesting the recent slowdown in the manufacturing economy will add to the likelihood of GDP growth weakening in the second quarter."
Don't Miss: Here's Your Key to Practical Personal Finance.