Wednesday Morning Cheat Sheet: 3 Stories Moving Markets
The markets closed lower in Asia on Wednesday. The Nikkei fell 0.61 percent, while the yen strengthened slightly to trade at 95.7185 to the dollar. Like yesterday, observers suggest that investors are keen to take profits after last week's record highs. The Hang Seng index fell 1.46 percent, while the S&P/ASX 200 was off 0.50 percent.
The markets were also lower in Europe following reports that industrial production across the region declined 0.4 percent in January, which compares to a 0.9 percent increase in December. As New York headed toward its opening bell, Germany's DAX was off 0.12 percent, London's FTSE 100 was off 0.84 percent, and the STOXX 50 index was off 0.55 percent.
U.S. futures at 8:35 a.m.: DJIA: +0.02%, S&P 500: +0.05%, NASDAQ: +0.04%.
Here are three stories to keep an eye on: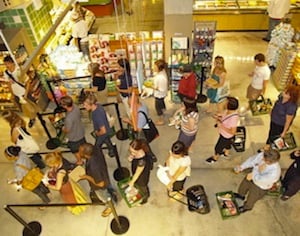 1) Retail sales increased more than expected in February, according to the U.S. Census Bureau. Sales increased 1.1 percent month over month, ahead of expectations for 0.5 percent growth and beating January's upwardly-revised 0.2 percent growth. Excluding automobiles, retail sales grew 1.0 percent, beating expectations for 0.4 percent growth. Excluding automobiles and gasoline, retail sales grew 0.4 percent, edging ahead of expectations for 0.3 percent growth.
Overall, the news is optimistic. Consumer spending, which accounts for as much as 75 percent of GDP, was expected to slow down as a result of the payroll tax increase. However, February's retail report and other indicators suggest that this is not necessarily the case.
2) Import and export prices both rose more than expected in February. Echoing sharp gains in January, export prices climbed 0.8 versus expectations for an increase of just 0.2 percent. This was led by a 2.0 percent increase in rates for agricultural products. Export prices are up 1.5 percent year over year. Import prices climbed 1.1 percent, primarily because of oil. Excluding petroleum, imports are up just 0.1 percent. Overall import prices are down 0.3 percent year over year.
3) January industrial production fell by 0.4 percent month over month for both the EA17 and EU27, according to estimates released by Eurostat on Wednesday. This compares to 0.9 percent and 0.8 percent respective growth in the regions in December. Year over year, industrial production decreased 1.3 percent in the EA17, and 1.7 percent in the EU27.