Wednesday Morning Cheat Sheet: 3 Stories Moving Markets
Markets declined in Asia on Wednesday, led by a 3.83 percent decline in Japan's Nikkei index. Prime Minister Shinzo Abe unveiled the "third arrow" of his economic reform strategy, but the programs announced apparently failed to inspire investors who were already on edge because of central bank speculation. In Hong Kong, the Hang Seng index declined 0.97 percent, while Australia's S&P/ASX 200 fell 1.34 percent.
Markets also declined in mid-day trading in Europe, fueled by the pessimism out of Japan, ongoing concern over the future of monetary policy in the U.S., and the ongoing economic downturn at home. Investors seem keen on taking profits where they can rather than riding out what could be a turbulent market over the next few months with a position in equities. Germany's DAX was off 0.87 percent, London's FTSE 100 was off 1.40 percent, and the STOXX 50 index was off 1.08 percent.
U.S. futures at 8:58 a.m.: DJIA: -0.30%, S&P 500: -0.42%, NASDAQ: -0.30%.
Here are three stories to keep an eye on:
1) Employment Grows Slowly in May: Private-sector employment increased by 135,000 in May, according to the latest ADP National Employment Report. The ADP Research Institute showed that while the goods-producing sector lost 6,000 jobs (mostly in manufacturing), the service-providing sector increased employment by 138,000 for the month. Economists were expecting an increase of as much as 171,000.
Over the past six months, payroll increases have averaged 164,000, making May's results underwhelming. The last three months have averaged gains of just 134,000, suggesting some weakness in second-quarter hiring that could impact not only total economic output, but also the U.S. Federal Reserve's interpretation of the health of the labor market. The job growth shown in ADP's payroll report is slower than what most economists would agree is necessary.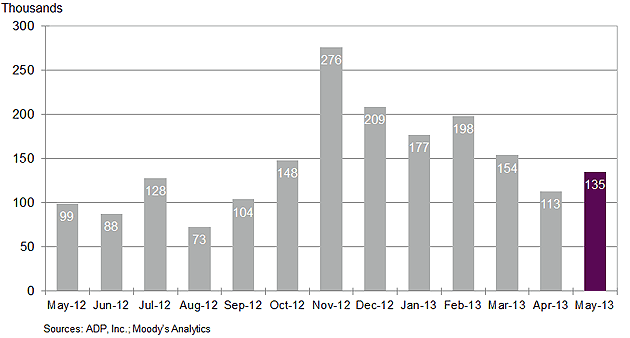 2) Shinzo Abe's Third Arrow Misses the Mark: Enthusiasm for Abenomics — the aggressive fiscal and monetary policies of Japan's Prime Minister — was a primary driving force behind the Nikkei's meteoric rise over the past few months. Japan's stock market has climbed more than 80 percent since late last year and for a period the yen weakened below 100 to the dollar, although the currency strengthened to 99.5350 on Wednesday.
Abe broke down the third arrow into three basic parts: improving productivity in the private sector, labor reform, and developing new markets. By pursuing these three issues, Abe hopes to increase average income by 3 percent over the nation's 2 percent inflation target. Some specific measures include removing some sales regulation in the medical sector and lowering the barrier to entry for foreign investment. However, what had markets retreating was a general lack of detail and silence on a few key subjects, like the corporate tax rate.
3) U.S. Labor Productivity Increases: Non-farm business sector labor productivity increased at a 0.5 percent annual rate during the first quarter of 2013, according to the U.S. Bureau of Labor Statistics. The increase in productivity reflects increases of 2.1 percent in output and 1.6 percent in hours worked. (All quarterly percent changes in this release are seasonally adjusted annual rates.) From the first quarter of 2012 to the first quarter of 2013, productivity increased 0.9 percent as output and hours worked increased 2.4 percent and 1.5 percent, respectively.
Unit labor costs in nonfarm businesses fell 4.3 percent in the first quarter of 2013, the combined effect of a 3.8 percent decrease in hourly compensation and the 0.5 percent increase in productivity. The decline in hourly compensation is the largest in the series, which begins in 1947. However, over the last four quarters, hourly compensation increased 2.0 percent, and unit labor costs rose 1.1 percent.
Don't Miss: How Taper Talk Has Cooled the Stock Market.