Wednesday Morning Cheat Sheet: 3 Stories Moving Markets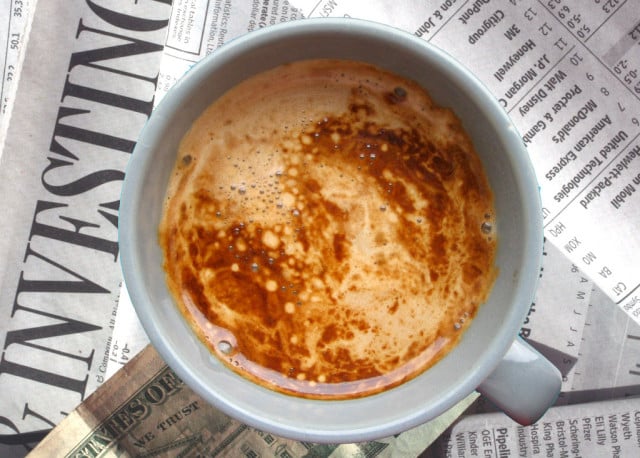 Markets were mixed in Asia on Wednesday. Japan's Nikkei climbed 1.83 percent with many traders citing the launch of a massive investment trust by Softbank as the primary catalyst. In Hong Kong, the Hang Seng declined 1.13 percent, while the S&P/ASX 200 climbed 0.98 percent in Australia.
Markets declined in Europe in mid-day trading as market participants await news from the Federal Open Market Committee meeting in the United States. Germany's DAX was off 0.05 percent, London's FTSE 100 was off 0.43 percent, and the STOXX 50 index was off 0.38 percent. U.S. markets were mixed in pre-market trading ahead of the post-meeting press conference.
U.S. futures at 8:40 a.m.: DJIA: -0.07%, S&P 500: +0.00%, NASDAQ: +0.13%.
Here are three stories to keep an eye on:
1) Outstanding Mortgage Debt Declines: The Mortgage Bankers Association reports that the level of commercial and multifamily mortgage debt outstanding decreased by $4.9 billion, or 0.2 percent, in the first quarter of 2013. This is the first quarterly decrease since the third quarter of 2011. Total outstanding mortgage debt in the first quarter was $2.41 trillion. The overall reduction in debt was primarily on the commercial side, as total multifamily mortgage debt outstanding increased 0.5 percent on the quarter.
"After five quarterly increases, the amount of commercial and multifamily mortgage debt outstanding fell slightly in the first quarter," commented Jamie Woodwell, MBA's Vice President of Commercial Real Estate Research. "Banks and thrifts, Fannie Mae, Freddie Mac and FHA increased their commercial and multifamily holdings, but the balance of loans in commercial mortgage-backed securities resumed its decline."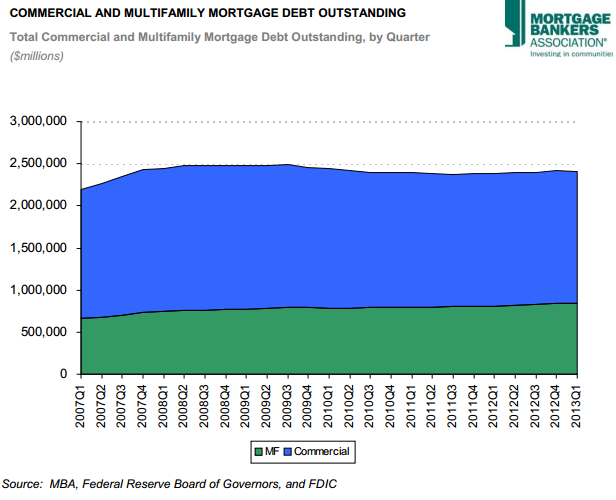 2) Japanese Merchandise Trade: Japanese exports increased 10.1 percent on the year in May, compared to a 3.8 percent increase in the previous month and beating out expectations for an increase of 7.1 percent. Imports increased 10.0 percent, below expectations for an increase of 10.8 percent. This is the third consecutive month of export increases and the seventh consecutive increase for imports.
Shipments to the U.S. increased 16 percent by value on the year, led by a 13 percent jump in automobile exports. Exports to China climbed 8.3 percent, while exports to the European Union declined 4.9 percent, the 20th consecutive month of declines. The decline in trade volume with Europe is a sign of weak demand from the region. The jump is partially due to a still-weak yen, although the currency has strengthened relative to where it was a few weeks ago.


3) European Monetary Policy: European Central Bank President Mario Draghi devoted his Tuesday speech in Jerusalem to the limitations of monetary policy — a topic that "has attracted a great deal of attention since the beginning of the financial crisis."
He began by saying that "circumstances have forced all major central banks to resort to instruments and policies carefully tailored to the unusual situation." The 17-member euro zone is experiencing its longest recession ever — in the first three months of the year, gross domestic product fell 0.2 percent and unemployment hit at a record high. So Draghi has decided to consider non-standard monetary policy tools and will deploy them if the circumstances warrant. (Read more on Draghi's speech.)
Against this backdrop, the markets digested the minutes from the previous meeting of the Monetary Policy Committee of the Bank of England. As previously disclosed, the bank decided to keep the official bank rate unchanged at 0.5 percent and its asset purchase program at 375 pounds ($587 billion).
Don't Miss: Here's Why Markets Turned Confident.