Wednesday Morning Cheat Sheet: 3 Stories Moving Markets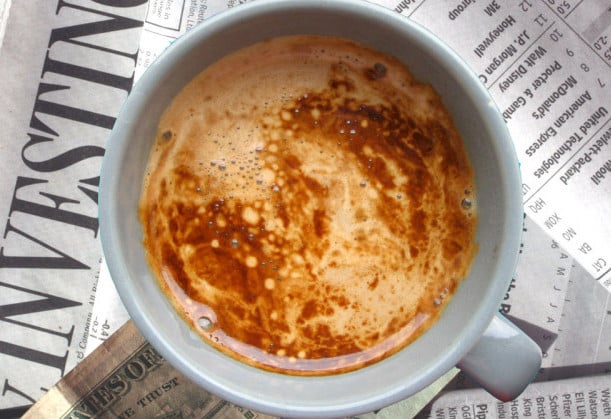 Markets were mixed in Asia on Wednesday. Japan's Nikkei climbed 0.54 percent to a four-week high of 14,053.90 while the yen traded relatively flat at 99.455 against the dollar. In Hong Kong, the Hang Seng fell 0.31 percent to 22,326.20, and in Shanghai, the composite gained 0.21 percent to 2,127.62 following a positive reading of the Purchasing Managers' Index in China. In Australia, the S&P/ASX 200 fell 0.67 percent to 5,161.64.
European markets declined in midday trading. Germany's DAX was off 0.76 percent, London's FTSE 100 was off 0.48 percent, and the STOXX 50 index was off 0.85 percent.
U.S. futures at 8:30 a.m.: DJIA: -0.16%, S&P 500: -0.13%, NASDAQ: +0.2%.
Here are three stories to keep an eye on.
1. China
"The HSBC China Services PMI accelerated to a five-month high of 52.8 in August, thanks to growth of new business," Hongbin Qu, HSBC's chief economist for China and co-head of Asian economic research, said in the firm's August services PMI report, which is compiled by Markit. The expansion is the first in five months and complements a similar return to growth in the manufacturing sector, reported earlier in the week.
"This implies that growth in China's manufacturing sector has started to stabilise on the back of a modest rebound of new orders and output," he said. "This was mainly driven by the initial filtering through of recent stimulus measures and companies' restocking activities. We expect some upside surprises to China's growth in the coming months."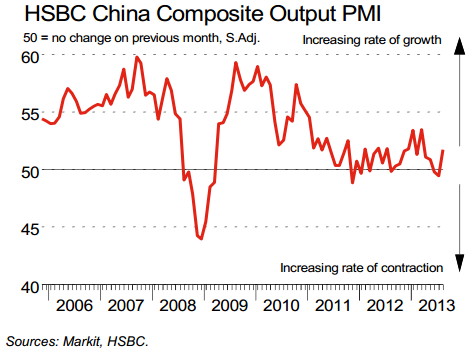 2. Europe
"The eurozone recovery is looking increasingly broad-based, with more sectors and more countries emerging from recession," Markit chief economist Chris Williamson said in the release of the eurozone composite PMI Index, compiled by Markit.
The eurozone services business activity index increased from 49.8 in July to 50.7 in August, indicating that the sector has returned to expansion after a year-and-a-half-long period of contraction. The increase was led by gains in output and new business inflows alongside an increase in business optimism.
"Although the picture is improving, the survey is still consistent with only very modest economic growth of approximately 0.2% in the third quarter," Williamson wrote. "While policymakers will therefore be pleased to see this growing body of evidence that the euro area recovery is now taking hold, the weakness of growth and ongoing job losses suggest the ECB's principal focus will be on reassuring markets that rates will not rise for the foreseeable future."
Eurostat also reported a second estimate of second-quarter gross domestic product that showed 0.3 percent growth in the EA17 and 0.4 percent growth in the EU27. This follows a contraction of 0.2 and 0.1 percent in the first quarter, respectively.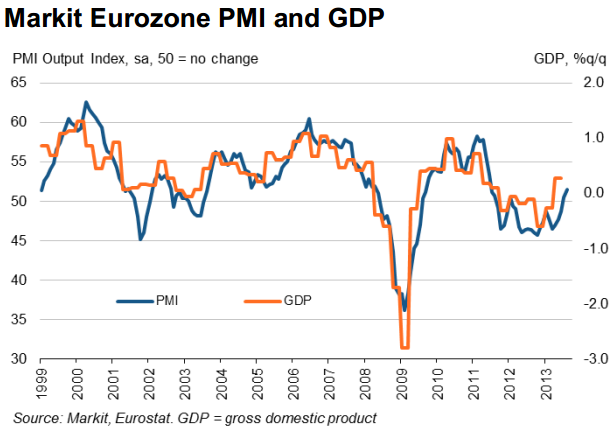 3. U.S. Job Market
Labor Market conditions in the United States improved slightly in August, according to Gallup's Job Creation Index. The overall index remained flat at +22, indicating net job creation in the overall economy. However, the federal government is still reducing the size of its workforce, with the index at -12.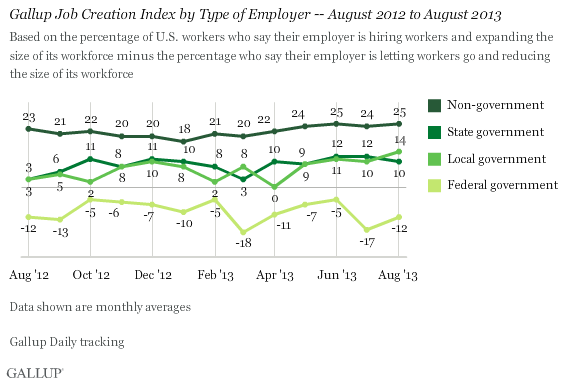 Don't Miss: Syria Is Barely a Blip on the International Oil Market.