Wednesday's Midday Movers: 3 Stories Driving Markets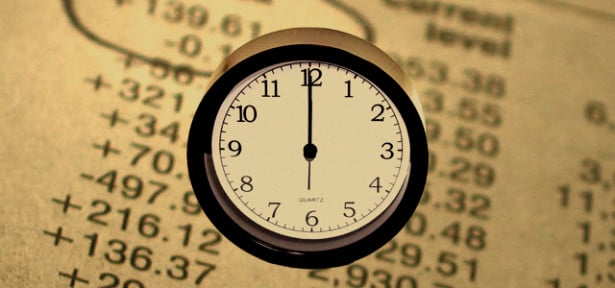 The major U.S. stocks were remaining steady Wednesday, reflecting continued uncertainty about the strength of the economic recovery. As of noon:
DJIA:

+0.18%

to 15,361.60
S&P 500:

+0.21%

to 1,701.03
Nasdaq:

+0.35%

to 3,781.32
Gold:

+1.58%

to 72.6725
Oil:

+0.14%

to 24.534
U.S. 10-Year:

-0.38%

to 36.43
Here are three stories helping shape the market Wednesday afternoon.
1. Time to Worry About Home Sales Again? The real estate market has been one of the strongest pillars in the economic recovery, but higher interest rates and a sluggish economy are hindering new single-family home sales.
On Wednesday, the U.S. Census Bureau reported that purchases of new homes, measured by contracts signed, increased 7.9 percent to a seasonally adjusted 421,000-unit pace in August compared to the downwardly revised July rate of 390,000 units. Home sales were up 12.6 percent from a year earlier, but the housing market is still well below its glory days… (Read more.)
2. Here's How BlackBerry Is Setting the Stage for Privatization: On Friday, shares of BlackBerry (NASDAQ:BBRY) were halted shortly before 3 p.m. EDT. The beleaguered smartphone maker apparently wanted to brace the markets for the preliminary release of its fiscal second-quarter financial results, which missed analyst expectations by a long shot. According to the preliminary report (real earnings will be reported September 27), revenues are expected to come in at $1.6 billion, well below the average analyst estimate of $3.06 billion. The company reported that approximately 5.9 million smartphones were sold through to end users, and that it will recognize revenues on about 3.7 million devices… (Read more.)
3. Economic Headwinds Slow Manufacturing Growth to a Crawl: Economic headwinds buffeting the U.S. manufacturing industry in July somewhat abated in August, according to an advance report from the U.S. Census Bureau. New orders for manufactured durable goods increased 0.1 percent on the month to $224.9 billion, exceeding expectations for a 0.5 percent contraction. The news follows a downwardly revised contraction of 8.1 percent, from 7.5 percent, in July, which was led by a tremendous decrease in the production of transportation equipment.
Orders for transportation equipment are often sensitive to short-term and seasonal trends, and are therefore volatile. Excluding transportation, new orders for manufactured durable goods actually declined 0.1 percent on the month, missing expectations for an increase of 1 percent. This indicates that not only did transportation equipment orders drive the decline in July, but the headline increase in August, as well… (Read more.)
Don't Miss: Economic Headwinds Slow Manufacturing Growth to a Crawl