Weingarten Realty Investors Earnings: Climbing Out of a Hole
Weingarten Realty Investors (NASDAQ:WRI) reported its results for the first quarter. Weingarten Realty Investors is a real estate investment trust whose business include leasing space to tenants in the shopping and industrial centers and also manage centers for joint ventures.
Don't Miss: Wall St. Cheat Sheet's newest Feature Trades of the Month!
Weingarten Realty Investors Earnings Cheat Sheet for the First Quarter
Results: Funds From Operations (FFO) rose to $50 million or 41 cents per share from $48.9 million or 41 cents per share.
Actual vs. Wall St. Expectations: The mean estimate for WRI was 43 cents/share. Estimates ranged from 40 cents per share to 45 cents per share.
Quoting Management: Same Property Net Operating Income ("SPNOI") for retail properties was up 0.5% compared to negative 2.4% a year ago. These results are primarily driven by leases commencing during the quarter that were signed in earlier quarters. Industrial SPNOI declined slightly during the first quarter; however, the Company's overall total SPNOI performance increased by 0.4%. The Company produced strong leasing results during the first quarter for its retail and industrial portfolio with 438 new leases and renewals, totaling 2.2 million square feet. The 438 transactions were comprised of 175 new leases and 263 renewals, which represent annualized revenues of $7.4 million and $17.8 million, respectively. "We're very pleased to see significant improvements in our Florida shopping centers. These properties saw an increase in leasing production of 34% and a decrease of 18% in small shop fallout from the first quarter a year ago," said Johnny Hendrix, Executive Vice President and Chief Operating Officer.
Competitors to Watch: One Liberty Properties, Inc. (NYSE:OLP), Urstadt Biddle Properties Inc. (NYSE:UBA), General Growth Properties, Inc (NYSE:GGP), Inland Real Estate Corp. (NYSE:IRC), The Macerich Company (NYSE:MAC), Cedar Shopping Centers Inc (NYSE:CDR), Alexander's, Inc. (NYSE:ALX), Roberts Realty Investors, Inc. (AMEX:RPI), Entertainment Properties Trust (NYSE:EPR), and Ramco-Gershenson Properties Trust (NYSE:RPT)
Stock Performance: Shares of WRI are unchanged at $26.43 in after hours trading.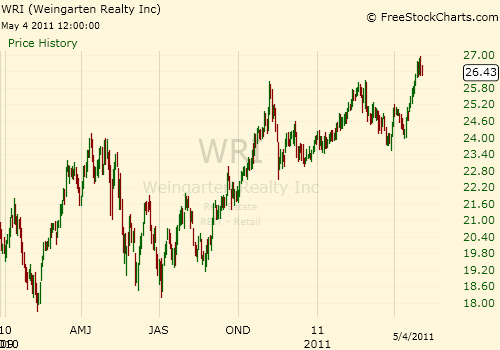 Don't Miss Wall St. Cheat Sheet's newest Feature Trades of the Month!