Welcome Back to the United States of Debt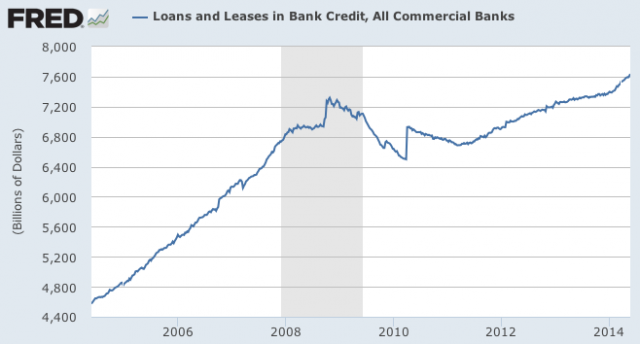 Deleveraging, we hardly knew you. The Great Recession greeted the nation with one of the worst job markets in history and a crippling blow to household wealth. Millions of Americans were forced to reduce their budgets along with their artificially high standard of living. However, after more than five years of slowly repairing their finances, Americans are leveraging up personal balance sheets again.
The Federal Reserve's latest Beige Book — an economic survey from the central bank's twelve districts — confirmed many recent statistics: borrowing and bank lending are on the rise. All districts reporting on banking noted that lending activity increased in recent months. Loan demand was described as "strong" in New York and San Francisco, while "more modest growth" was reported in Philadelphia, Richmond, Chicago, St. Louis, Kansas City, and Dallas.
While a rebound in lending and consumer debt is typically seen as a positive sign of economic confidence, too much debt can be disastrous and lead to longer term problems. Unfortunately, there are some alarming borrowing trends in the economy. According to the Federal Reserve, outstanding household debt totaled $11.65 trillion in the first-quarter, up $129 billion from the previous quarter. In fact, household debt has now increased for three consecutive quarters and is only 8.1 percent below the peak of $12.68 trillion made in 2008. In April, consumer credit surged at its fastest pace since July 2011.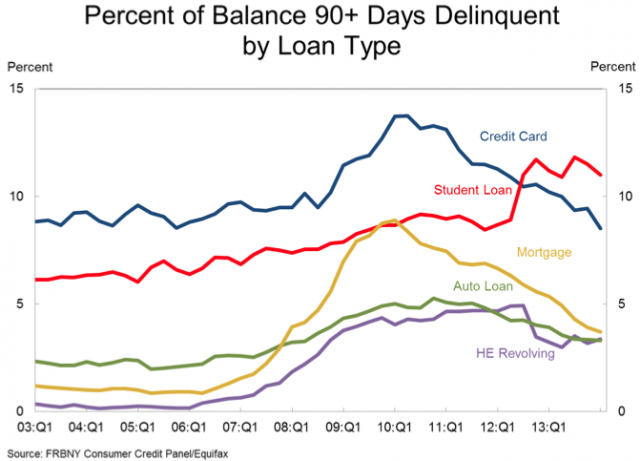 The student debt bubble is playing an increasing role in household finances. During the first-quarter, student debt increased $31 billion from the prior quarter and is up 12 percent from a year earlier. Americans now have $1.11 trillion in outstanding student debt, which represents an all time high. Since lenders continue to pass out student loans like candy, this trend is not expected to slow anytime soon. Mortgage debt is the only debt burden to outweigh student debt.
Unlike other types of debt, the delinquency rate for student debt is quite high. About 11 percent of of aggregate student loan debt is at least 90 days delinquent or in default, compared to 8.5 percent for credit cards and only 3.7 percent for mortgages. Overall, about 40 million Americans are walking around with some form of student debt.
Interestingly, the delinquency rate of student loans is likely even worse than reported. In the fine print, the Federal Reserve explains that, "Delinquency rates for student loans are likely to understate actual delinquency rates because about half of these loans are currently in deferment, in grace periods or in forbearance and therefore temporarily not in the repayment cycle. This implies that among loans in the repayment cycle delinquency rates are roughly twice as high."
While a college degree is beneficial to many graduates in the long-run, the debt now associated to a degree is hindering other parts of the economy as younger Americans cannot afford major purchases or save for retirement. Furthermore, student debt has become an epidemic to those trying to build wealth. According to a recent analysis by the Pew Research Center, nearly four in 10 U.S. households headed by an adult younger than 40 have student debt, representing the highest share on record. Households headed by a young, college educated adult with student debt only have an average net worth of $8,700, compared to $64,700 to those with college degrees and zero student debt.
Historically low interest rates have made various forms of debt more affordable, but there are still indications that Americans are financially strained. The average auto loan term increased to 66 months during the first-quarter, according to Experian Automotive, a global information services company. That is the highest level since Experian began publicly reporting the data in 2006. Making matters worse, nearly 25 percent of all new vehicle loans originated during the quarter had terms extending out 73 months to 84 months, representing a 27.6 percent surge from a year earlier. The average amount financed for a new vehicle loan also reached an all time high of $27,612.
On the positive, debt levels are not rising by themselves. The Federal Reserve recently announced that household net wealth reached a record high of $81.8 trillion in the first-quarter, up $26.2 trillion from the trough five years earlier. However, if you didn't own stocks or real estate during this period, you probably don't feel wealthier at all. The majority of the wealth effect has come from financial assets and the helping hand of the Federal Reserve.
More From Wall St. Cheat Sheet:
Follow Eric on Twitter @Mr_Eric_WSCS