Wells Fargo Beats Estimates, JPMorgan Hit by Legal Woes: Market Recap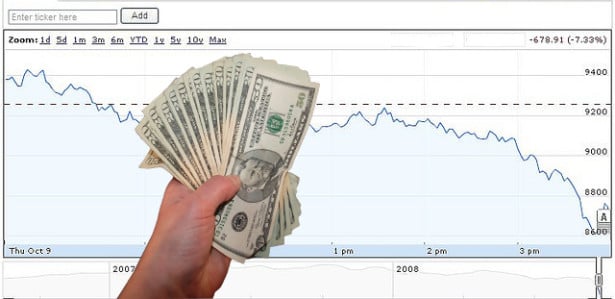 U.S. stocks rose during trading on Friday as it appears talks amongst lawmakers to resolve the budget crisis are moving forward. Lawmakers need to come up with a plan to raise the debt limit before the end of the month to avoid a default, which the Congressional Budget Office has estimated will occur between October 22 and 31 if an agreement isn't reached. Investors are keeping a close eye on third-quarter earnings results, as the government isn't releasing economic reports during the shutdown. Data from Thomson Reuters/University of Michigan showed that consumer sentiment has fallen more than expected this month versus September.

Gold: -2.06% to $1,270.20 per ounce Oil: -1.10% to $101.88 per barrel U.S. 10-Year: -0.11 to 2.682%
America to Congress: It's Time to Look for Another Job: Eleven days into a partial government shutdown, six days away from exceeding our borrowing limit, and Americans want Congress to go. A new NBC News/Wall Street Journal poll shows that given the opportunity, 60 percent of Americans would vote every single member of Congress out of office, including their own representatives.
Will the Government Shutdown Delay the Keystone Decision?: The government shutdown could have an unforeseen impact on the State Department's study of the Keystone Pipeline, Reuters reports. The State Department is currently working on its final report that will assess the impact of the Keystone Pipeline on the environment and on the economy.
IRS to Congress: Obamacare Glitches Not Our Fault: The number of agencies involved in the rollout of the Affordable Care Act — especially its cornerstone provision, the individual insurance exchanges — has made the search for the party responsible for the glitches plaguing the online marketplaces especially difficult. One of the primary reform aims of Affordable Act was to ensure every American was insured and the primary vehicle of that goal are the state-run or federally-facilitated exchanges.
Here's your cheat sheet to today's top stocks stories:
Safeway Inc. (NYSE:SWY) shares are up despite the fact that the retailer reported a 58 percent drop in profit for the third quarter, and the reason for the Safeway optimism is that the company announced it's leaving Chicago by the beginning of next year. The 72 Dominick's supermarkets Safeway owns in Chicago will give the company a $400 million to $450 million cash tax benefit.
JPMorgan Chase & Co. (NYSE:JPM) closed down 0.02 percent during trading on Friday after reporting its third-quarter financial results. JPMorgan, America's largest bank by assets, reported an unexpected net loss of 17 cents per share for the quarter, largely the result of JPMorgan's enormous legal expenses. Analysts were expecting a profit of about $1.19 per share, which compares against year-ago earnings of $1.40 per share.
Wells Fargo (NYSE:WFC) reported earnings on Friday morning. While the slowdown in the mortgage market did impede Wells Fargo's growth to some degree, the bank reported that profit rose 13 percent in the third quarter. Improving the quality of its loans was one way in which Wells Fargo was able to outmaneuver the declines in mortgage originations and a release of $900 million from the stockpile of cash it set aside during the crisis to offset bad loans contributed to the stronger results as well.
Gap (NYSE:GPS) shares plunged more than 5 percent in late afternoon hours. Gap reported that same-store sales declined 3 percent for September, compared to a 3 percent rise a year earlier. "While September proved to be somewhat challenging, we remain steadfast in our commitment to deliver on our full-year goals," said Glenn Murphy, chairman and chief executive officer of Gap. Net sales for Gap during the five-week period ending October 5, 2013 were $1.46 billion.
BlackBerry (NASDAQ:BBRY) has another potential buyer, and this one is exceptionally familiar with the company. According to AllThingsD, a regulatory filing released Thursday shows that BlackBerry co-founder and former co-CEO Mike Lazaridis is now exploring the options of a conceivable bid for the Canadian smartphone maker. In a surprising move, he has even convinced the company's other co-founder, Doug Fregin, to help him do it.
Facebook (NASDAQ:FB) is announcing yet another change to its privacy policy that's likely to draw the ire of Facebook users and privacy watchdogs. The site is removing the option that allows users to prevent their profiles from being searchable by name, according to a report from Tech Crunch. Now anyone that you haven't blocked has the ability to search for and see parts of your profile by typing your name into Facebook's search bar.

Follow Jacqueline on Twitter @Jacqui_WSCS
Don't Miss: IRS to Congress: Obamacare Glitches Not Our Fault.