Wells Fargo Mortgage Customers Use Home Rebate Card Rewards and 2 More Heavily Traded Stocks to Follow
Wells Fargo & Co. (NYSE:WFC): Current price $40.85
Since the card's intro in 2007, Wells Fargo Home Mortgage customers with Home Rebate Cards have used their rewards to automatically repay $50 million in mortgage balances. Almost every purchase a customer makes with the card counts toward rebates that are credited toward the principal on their Wells Fargo Home Mortgage loan. These rebates are applied in $25 increments until the mortgage loan is paid off. The rebate can aid borrowers in potentially lowering their long-term mortgage interest by thousands of dollars, and cut the number of their remaining payments on fixed-rate loans.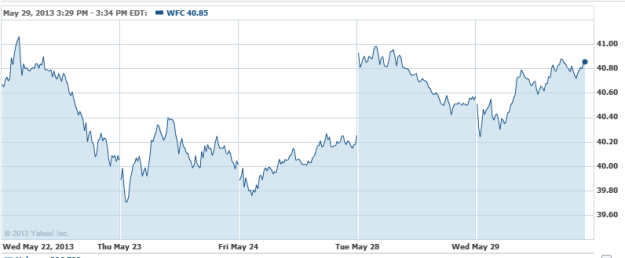 AT&T (NYSE:T): Current price $35.98
The giant telecom is growing its leadership in smart grid by offering prepaid applications that help manage energy usage and cut costs. An exclusive arrangement with PayGo makes AT&T the only domestic provider for PayGo's utility payment solutions, which includes close to real-time processing of meter information for prepaid services. PayGo from AT&T permits consumers to pay their energy bill in the manner they prefer, when they want, and from almost anywhere they want, employing smartphones, text messages, kiosks, the Internet, or by phone.

General Electric Company (NYSE:GE): Current price $23.65
General Electric's healthcare unit, GE Healthcare, announced Wednesday its purchase of Unisyn Medical Technologies' Transactional Business, which is a national supplier of comprehensive ultrasound probe repair solutions to biomedical and clinical engineers. Financials of the transaction were not divulged. The proprietary products and services from Unisyn will be joined with GE Healthcare's Global Services organization and be offered at first to customers in the United States and Canada. Global expansion should commence by the end of 2013.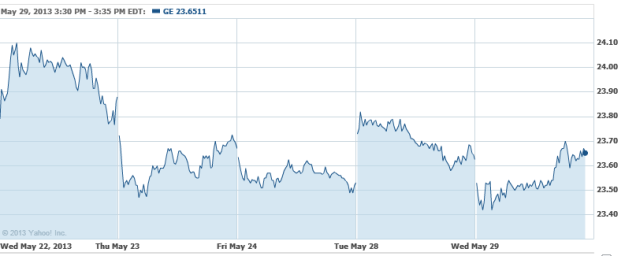 Don't Miss: 4 Ways Congress Could Screw Up the Economic Recovery.