Wells Fargo Recruits Veteran Advisers From Rivals and 2 More Heavily Traded Stocks to Follow
Wells Fargo & Co. (NYSE:WFC): Current price $40.15
On Friday, the bank reported that it has recruited veteran advisers in six states from competing firms Morgan Stanley Wealth Management, Merrill Lynch, and RBC Wealth Management for its domestic brokerage force. The new hires joined in April and in May, and oversaw in excess of $1 billion in combined client assets at their prior companies. They came to the private client group at Wells Fargo Advisors, which is the bank's St. Louis-based brokerage business.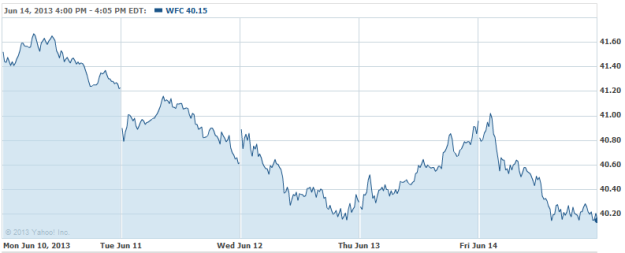 Fifth Third Bancorp (NASDAQ:FITB): Current price $18.30
Fifth Third Bank announced Friday the intro of the Fifth Third Stand Up To Cancer Debit MasterCard. Stand Up To Cancer is a revolutionary project that makes it easy for scientific collaboration to speed up innovative cancer research, and bring new therapies to patients in quick order. The bank is the first card issuer to offer a Stand Up To Cancer payment card, which can now be had by visiting any of its more than 1,300 banking centers. A part of the annual fee, and each qualifying card purchase will support Stand Up To Cancer. The card may be used anywhere Debit MasterCard is accepted.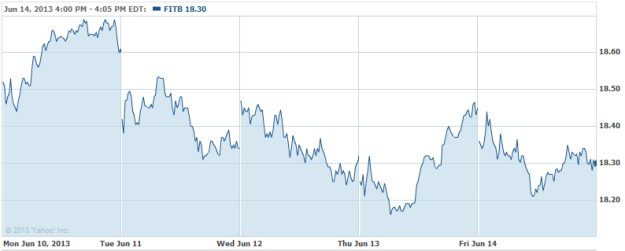 Arch Coal (NYSE:ACI): Current price $4.24
In Friday trading, shares of Arch Coal moved into oversold territory, generating an Relative Strength Index reading of 29.9, after exchanging hands as low as $4.31 per share. In contrast, the current RSI reading of the S&P 500 ETF stands at 52.3. An assertive investor could view ACI's 29.9 RSI reading as a sign that the recent heavy selling is exhausting itself, and start a search for entry point opportunities on the buy side. RSI is a technical analysis indicator that measures momentum on a scale from zero to 100. Should the Index go below 30, the stock is considered to be oversold.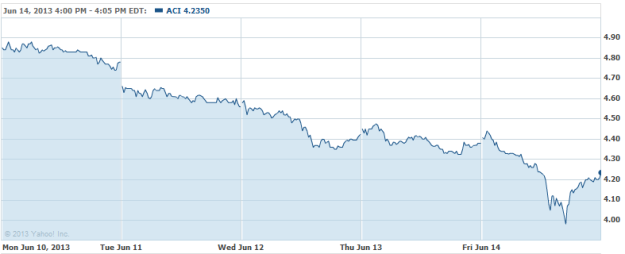 Don't Miss: Frenemies Forever: Apple Has New Work for Samsung.