Wells Fargo's Not Scared of Student Lending Like Other Banks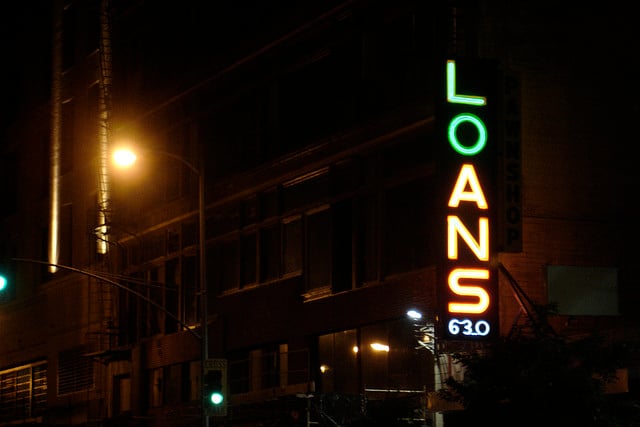 Unlike Bank of America (NYSE:BAC), Citigroup (NYSE:C), JPMorgan Chase, and U.S. Bancorp (NYSE:USB), Wells Fargo (NYSE:WFC) — the nation's largest home loan originator — still wants to make student loans. As one bank after another exits the student loan business and private-sector profits plummet, the federal government has taken on a greater and more important role in student lending, leaving industry experts wondering why Wells Fargo wants to continue to make loans to students. "I get that question asked fairly commonly," especially when another bank chooses to leave the business, John Rasmussen, Wells Fargo's head of education finance, told the Charlotte Observer.
It is not surprising that Wells Fargo is often questioned about its interest in the student loan business. Student lending is a big business; the $1 trillion dollars of outstanding student debt in the United States is greater than the total amount of credit card debt outstanding, and it is growing every year. Yet, it is not exactly a profitable business. Lenders make money by charging interest, and typically, interest rates on loans are a function of two things: benchmark lending rates and risk. Financial institutions will lend out money to borrowers whichever way suits their appetite; in general, this gives them discretion over what interest rates to charge people based on the risk of lending to them. However, this is not really the case with student loans, and the primary reason is because in the wake of the late-2000s financial crisis, the government has come to dominate the student lending business.
More than 90 percent of student loans made in the 2011-2012 school year were made by the government. This reality is the product of a unique economic and political climate brought on by the financial crisis: lending conditions in the post-crisis period seized up, and banks became unwilling to lend to students who were highly likely to make late payments, default, or otherwise be an unfavorable borrower. The government, on the other hand, opened its arms, and would loan to anybody who had received an acceptance letter. Furthermore, President Barack Obama signed a law in 2010 that took banks out of the government-backed student loan business.
The government's heavy involvement in student lending has made it difficult for banks to expand in the student loan market; private-sector profits made from student loans have declined by nearly 70 percent in the wake of the financial crisis, to just $8.1 billion — pocket change for the major financial institutions that had once been in the industry, such as Citigroup, U.S. Bancorp, and Bank of America. Each of these banks has exited their student lending business over the past four years.
However, for Wells Fargo, offering student loans is a significant pillar of the bank's business strategy, which is based on offering customers as many different financial products as possible. "We sort of hold ourselves out in the industry as America's community bank," Rasmussen told the Observer. "We look at this and say, geez, our communities need us, our customers need it." Thanks to that ethos, Wells Fargo is the second-largest private student lender in the United States, coming just behind Sallie Mae (NASDAQ:SLM), a company that focuses primarily on education loans, and ahead of Discover Financial (NYSE:DFS). The bank's student loan business began to grow after it acquired Wachovia in 2008. By 2009, Wells Fargo-originated loans accounted for 16 percent of the student loan market and by 2010, the bank's market share was 25 percent, according to data from College Board Statistics. In its 2010 third-quarter report, the bank said it had increased student loan originations by 50 percent that year to date, in the old Wachovia footprint.
Now, the three top private student lenders originate more than three quarters of private student loans in the U.S, according to a report by Standard & Poor's. Rasmussen described Wells Fargo's private loan originations as "stable" in his interview with the Observer, but he said that the bank planned to keep growing the business. After all, student loan interest rates are comparable to auto loans and mortgages.
While students are highly likely to make late payments and default, student loans are not necessarily as risky as they sound. The loans are often co-signed by a family member with good credit; the average FICO score for a borrower is 746 and more than 80 percent of Wells Fargo's loans have a co-signer. Also, borrowers cannot discharge them in bankruptcy. There is no collateral in student loans; the bank cannot repossess the person as it can with a home or with a car. That is why student loans do not go away during bankruptcy proceedings and there are no statute of limitations. Wells Fargo has also protected itself, thus far, by keeping student loans a small portion of its total loan portfolio.
Wells Fargo does face the problem of student loan defaults, which analysts say have give banks some cause for concern, but Rasmussen said it was working with the Consumer Financial Protection Bureau to develop new programs to modify student loans that have become delinquent.
And, there are even more reasons to forgo the student lending. Many banks have left the business because, with government competition, there is limited room to grow. A memo seen by Reuters revealed that this is exactly why JPMorgan plans to exit its student lending business, effective in October. Bank of America was the first of big financial institution to stop student lending, ending the practice in April 2008 without offering an explanation. At that time, the student loan market was collapsing alongside the subprime mortgage market. Citigroup followed Bank of America in the fall of 2010, selling its private student loan portfolio to Discover Financial and most of its government-backed student loan portfolio to Sallie Mae for a loss of $500 million between the two deals. U.S. Bank stopped originating private student loans last year.
The need for banks to boost their capital levels under international banking regulations have forced many institutions to cut lending types that are not considered to be part of their core business, and as Standard & Poor's analyst Kevin Cole, who tracks private student lending, indicated, student lending is one of those businesses. "If you're going to go through your entire portfolio and say, 'Where can I cut costs, where can I cut risks?' that's going to kind of jump out for a lot of people," he told the Observer. A delinquent loan can count as a troubled asset, requiring banks to hold more assets.
Of course, it did not help that President Obama signed a bill to lower the interest rate on both subsidized and unsubsidized student loans in August. As politicians began to reexamine interest rates for federal student loans, the private student loan business also came under regulators' microscopes. The Federal Deposit Insurance Corporation, the Federal Reserve, and the Office of the Comptroller of the Currency urged private student lenders in February to ease the burden on borrowers by working out more flexible repayment terms.
Follow Meghan on Twitter @MFoley_WSCS
Don't Miss: Post-Financial Crisis: America's Youth Is Not Hopeless.