Wendy's/Arby's Group Earnings: Margins Shrink
Wendy's/Arby's Group, Inc. (NASDAQ:WEN) reported its results for the first quarter. Wendy's Arby's Group Inc. is a quick service restaurant company, which is comprised of the Wendy's and Arby's brands, two companies distinguished by traditions of quality food and service.
Don't Miss: Wall St. Cheat Sheet's newest Feature Trades of the Month!
Wendy's/Arby's Group Earnings Cheat Sheet for the First Quarter
Results: Loss narrowed to $1.4 million (0 cents/diluted share) from $3.4 million (loss of one cent/share) in the same quarter a year earlier.
Revenue: Rose 1.2% to $847.8 million YoY.
Actual vs. Wall St. Expectations: WEN fell short of the mean analyst estimate of 2 cents/share. Estimates ranged from one cent per share to 4 cents per share.
Quoting Management: Roland Smith, President and Chief Executive Officer of Wendy's/Arby's Group, stated: "First quarter adjusted EBITDA1 was in-line with our expectations. Wendy's generated positive systemwide same-store sales in the U.S., offset by softness in Canada. Arby's continued to build sales momentum and posted strong systemwide same-store sales growth in North America. In the first quarter, we continued to invest in our business as we position the Wendy's brand for 10% to 15% average annual EBITDA growth in 2012 and beyond. To that point, we are focused on Wendy's 'Real' brand positioning and our superior food quality. Later this year we will introduce completely new, core menu items including Dave's Hot 'n Juicy cheeseburgers and a line of premium chicken sandwiches. Our 'Real' brand positioning also includes an ongoing commitment to the salad category with innovative products like our Berry Almond Chicken Salad we will introduce this summer. Breakfast is also a major initiative for Wendy's and we expect to be serving our new breakfast in approximately 1,000 restaurants by the end of the year. Customer acceptance of our new breakfast menu is very encouraging and we're pleased that sales volumes are meeting expectations and growing. Investing in breakfast and other new Wendy's menu items is a great use of our capital. We expect these investments to generate long-term organic growth and leverage our existing store base," said Smith.
Key Stats:
A year-over-year revenue increase last quarter snaps a streak of four consecutive quarters of revenue declines. The worst quarter in that span was the fourth quarter of the last fiscal year, which saw a 6.7% decrease.
Gross margin shrunk 1.2 percentage points to 22.2%. The contraction appeared to be driven by rising costs as the figure rose 2.9% from the year earlier quarter while revenue rose 1.2%.
Competitors to Watch: McDonald's Corporation (NYSE:MCD), Good Times Restaurants Inc. (NASDAQ:GTIMD), Carrols Restaurant Group, Inc. (NASDAQ:TAST), Tim Hortons Inc. (NYSE:THI), Yum! Brands, Inc. (NYSE:YUM), Jack in the Box Inc. (NASDAQ:JACK), Panera Bread Company (NASDAQ:PNRA), Brazil Fast Food Corp. (BOBS), Nathan's Famous, Inc. (NASDAQ:NATH), and Morgan's Foods, Inc. (MRFD)
Stock Performance: Shares of WEN are down 1.45% from the previous close of $4.82.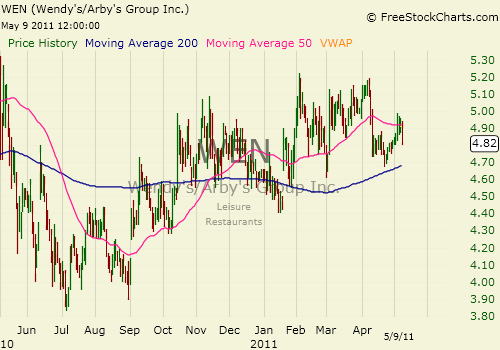 Don't Miss Wall St. Cheat Sheet's newest Feature Trades of the Month!