Were Pepsi and Coke Just Forced into an Advertising Truce?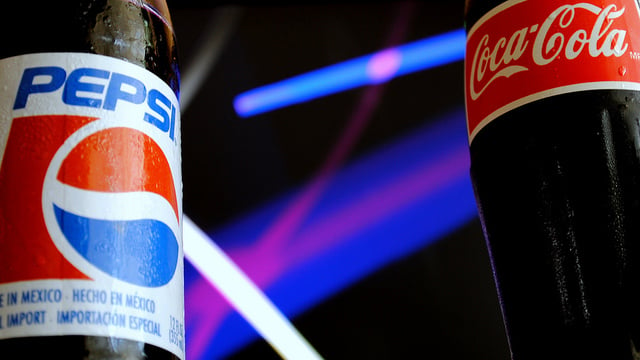 When Publicis Group SA merged with Omnicom Group Inc, the two couldn't decide on which company to choose in the Pepsi Challenge, so they chose both.
Luckily, their choice was inconsequential, because now that the two advertising companies have merged, the new firm is responsible for both the Coca-Cola Company (NYSE:KO) and PepsiCo (NYSE:PEP). Now, the real question is: can these three really be one big happy family?
The heated rivalry between Coke and Pepsi is nothing new, and this advertising merger isn't likely to change anything. Holding the number one and number two spot for the largest soda companies in the world, the two carbonation corporations are in a constant battle to roll out the latest tasty offering.
And while they don't necessarily go at each other's throats in marketing campaigns, they also don't shy away from comparisons, as evidenced by the infamous Pepsi Challenge. Now, many consumers are anxious to see how the companies will work together to manage their consolidated advertising agencies.
But Publicis and Omnicom aren't worried that the merger will scare off potential clients. One of the two men who will serve as the new firm's co-CEO, Publicis's Maurice Levy, explained, "I'm sure there are some competitors who'd very much like to see us losing some accounts. I don't believe this is something that will be significant."
It's no wonder that he thinks competitors will now view the merger as a major threat. Together, Publicis and Omnicom's business will unite each of the company's solid foundation of clients, and will amass close to $23 billion in sales. This will help the group grow its clout in the advertising market, where it can command with its expanded budget and extended client base.
In addition, ad space will no longer ever be a problem — a beneficial trade off that many of the firm's competing clients will have to accept, now that they're all working under the same roof. Not only will the firm handle both Coke and Pepsi's advertising, but AT&T (NYSE:T), Verizon Communications's (NYSE:VZ) Verizon Wireless, Sprint Corp (NYSE:S), and T-Mobile US will all also fall under Publicis Omnicom Group.
So how is the world's largest advertising company swinging this large-scale client consolidation? One word: walls. Bloomberg explains that ad companies are used to creating agency networks within their corporations, to keep ad campaigns private and separate from other competing marketing strategies. Omnicom and Publicis will each have at least three, and the firm promises that no secrets will get passed between these "Chinese walls."
So far, it seems as though everyone is on board, as Levy maintains that his company has yet to lose a client. It'll be interesting for all to see how the firm can manage these competing advertisers, but one thing's for sure — it now has a new kind of Pepsi Challenge on its hands.
Don't Miss: Procter & Gamble: There's a Lot to Love Ahead of Earnings.