Western Union Expands Direct to Bank Service and 4 Morning Hot Stocks Trading Today
Nokia (NYSE:NOK): Current Price $4.25
Global venture firm Nokia Growth Partners announces an additional $250 million long-term commitment from Nokia (NYSE:NOK), allowing the creation of its third fund. "Over the past decade, Nokia has developed an innovative venturing strategy," said Timo Ihamuotila, Nokia Executive Vice President & Chief Financial Officer. "Our ongoing commitment to Nokia Growth Partners reinforces Nokia's support for a vibrant mobile ecosystem and our determination to collaborate with industry innovators to build great mobile products. Over the past decade, Nokia has developed an innovative venturing strategy." Nokia Growth Partners also announced the appointment of two senior hires in David Tang and Lu Guo, previously of AMD and Keystone Ventures, respectively.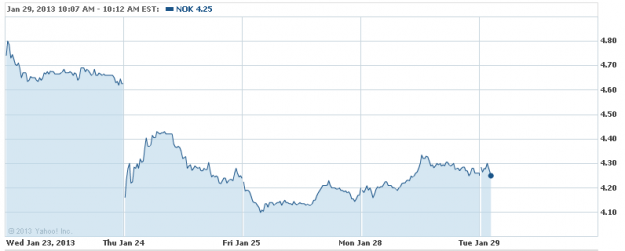 Dish Network (NASDAQ:DISH): Current Price $37.41
Dish Network's (NASDAQ:DISH) surprise $3.30 counterbid has queered the pitch for Sprint's (NYSE:S) $2.97 offer for Clearwire Corp (NASDAQ:CLWR). Even though Dish's offer is unlikely to succeed because of conditionalities that could require Sprint's approval, the offers assumes significance because Clearwire's share price has now risen high enough to match it. That, along with certain minority Clearwater investors pushing for it to improve its bid, has led to pressure on Dish to raise it by around 11%. Considering Sprint needs the assent of more than half of Clearwire's minority investors, traders expect that Sprint will soon put a higher offer on the table. Taran Asset Management, a minority investor, claims Dish's offer is undervalued and has requested the FCC to block the proposed transaction. Another investor, Glenview Capital Management, will not support the bid.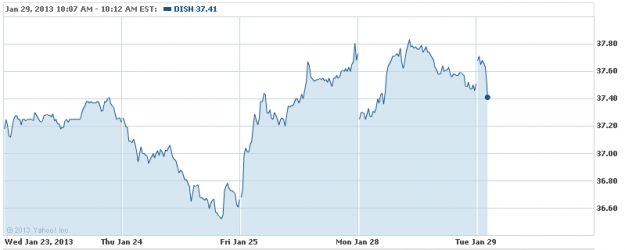 Are these stocks a buy or sell? Let us help you decide. Check out our Stock Picker Newsletter now.
EMC (NYSE:EMC): Current Price $23.45
EMC (NYSE:EMC) reports fourth quarter EPS of $0.54 and revenue $6.03 billion which beat by $0.02 and $0.05 billion, respectively. Quarterly revenue is up 8% year-on-year and both fourth quarter and full year net income and EPS are at record highs. The company generated a record full-year operating cash flow of $6.3 billion and free cash flow of $5 billion. Joe Tucci, EMC Chairman and Chief Executive Officer, said, "EMC achieved its first $6 billion quarter for revenue, capping off a record breaking 2012. Driving our strong results is the strength of our leading-edge products and services, our solid operational and financial model, and consistent execution against our strategy. EMC remains squarely at the center of the most disruptive and opportunity-rich shift in IT history, propelled by the benefits of cloud computing, Big Data and trusted IT. These high-priority IT spending areas are core to our strategic focus and represent market segments where EMC has established leadership positions and competitive advantage."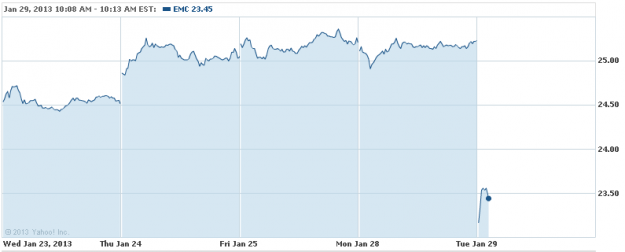 Netflix Inc (NASDAQ:NFLX): Current Price $159.63
Netflix Inc (NASDAQ:NFLX) announces an offering of $400 million senior notes due 2021, with terms to be determined by negotiations between the company and initial purchasers. Of that, $225 million will go to retiring the outstanding 8.5% senior notes which are due 2017 including expenses thereon. The rest will go towards general corporate purposes.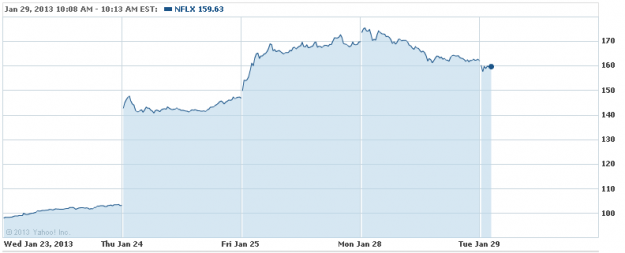 Western Union Company (NYSE:WU): Current Price $13.95
The Western Union Company (NYSE:WU) announced the expansion of its Direct to Bank remittance service to receivers in China and Canada. Customers can now receive funds directly into their bank accounts after the payouts have been originated from westernunion.com site in the UK. That brings the tally of the number of countries which can receive money digitally from the westernunion.com site to 46 and sending countries to 23. "This latest digital expansion of our Direct-to-Bank service marks another successful buildup to global Agent network and our goal of offering consumers more ways to get money to more places," said Khalid Fellahi, Senior Vice President and General Manager, Western Union Digital.

Don't Miss: Report Slams Treasury for Excessive Compensation at AIG and GM.