Weyerhaeuser Earnings: Housing Still Holding Back Great Growth
S&P 500 (NYSE:SPY) component Weyerhaeuser Co. (NYSE:WY) reported its results for the first quarter. Weyerhaeuser Company is a forest products company which mainly grows and harvests trees, builds homes and makes a range of forest products.
Don't Miss: Wall St. Cheat Sheet's newest Feature Trades of the Month!
Weyerhaeuser Earnings Cheat Sheet for the First Quarter
Results: Swung to a profit of $540 million (18 cents/diluted share) in the quarter. The industrial reit had a net loss of $20 million or a loss of 10 cents per share in the year earlier quarter.
Revenue: Rose 11.2% to $1.58 billion YoY.
Quoting Management: "During the first quarter we continued to make progress in our drive to improve our financial performance despite anemic housing market conditions," said Dan Fulton, president and chief executive officer. "We are leveraging our strength in the export markets to take advantage of increased demand from Asia. Our businesses are running more efficiently and our work to eliminate costs continues. We remain focused on making further improvements to achieve our goal of delivering superior returns."
Key Stats:
The company has enjoyed double-digit year-over-year revenue growth for the past five quarters. Over that span, the company has averaged growth of 17%, with the biggest boost coming in the second quarter of the last fiscal year when revenue rose 29.8% from the year earlier quarter.
Competitors to Watch: Universal Forest Products, Inc. (NASDAQ:UFPI), Deltic Timber Corporation (NYSE:DEL), Masisa S.A. (MYSZY), Canfor Corporation (AMEX:CFP), Rougier SA (NYSE:RGR), Ainsworth Lumber Co. Ltd. (ANS), Aikbee Resources Berhad (AIKBEE), Ta Ann Holdings Berhad (TAANN), Ruukki Group Oyj (RUG1V), and RusForest AB (RUSF).
Today's Performance: Shares of WY closed down 4%.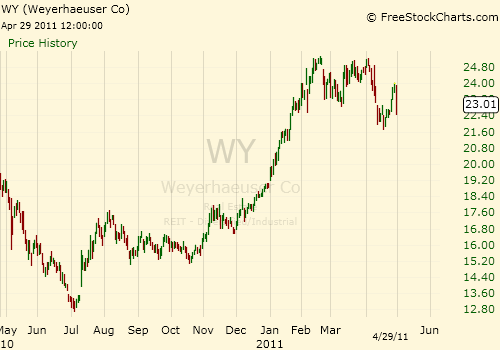 Don't Miss Wall St. Cheat Sheet's newest Feature Trades of the Month!