What Do Americans Think About the Housing Recovery?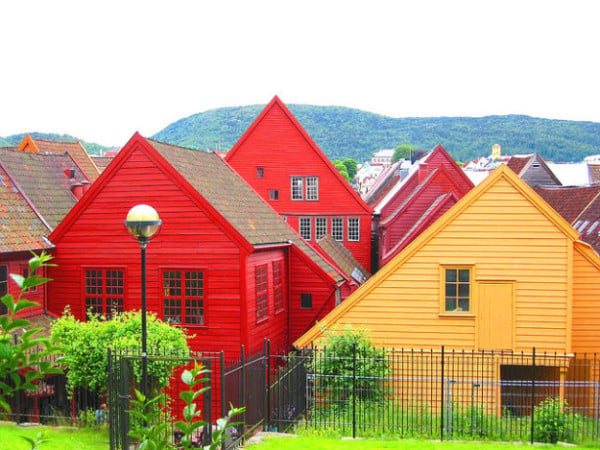 With a heavy amount of intervention from the Federal Reserve, the real estate market has rebounded from its worst levels of the Great Recession. Low interest rates and higher prices have played a major role in the housing-recovery story, but recent changes have many Americans believing affordability will decrease.
Mortgage rates have been on the rise over the past several weeks. As a result, potential homebuyers may enter the market sooner than expected. According to a new survey from Fannie Mae, the number of respondents who believe mortgage rates will increase over the next year jumped 11 percentage points from May to hit 57 percent in June,  the highest level in the survey's three-year history. People expecting home prices to increase over the same period also hit a survey high of 57 percent. Only 7 percent believe prices will decline.
"The spike in mortgage rate expectations this month seems to have had an impact on a number of the survey's indicators and may increase housing activity in the near term by driving urgency to buy," said Doug Duncan, senior vice president and chief economist at Fannie Mae. "Consumers may recognize that today's still favorable mortgage rates and homeownership affordability levels will recede over time. Given rising home and rental price expectations and improving personal financial attitudes, more prospective homebuyers may be deciding that now is the time to get off the fence."
Between the beginning of May and the end of June, the average interest rate for a 30-year fixed-rate mortgage surged from 3.59 percent to 4.68 percent, according to the Mortgage Bankers Association. Interest rates are now at their highest level since 2011.
Home prices are also attracting attention. CoreLogic, a leading property information and analytics provider, reported its home price index gained 2.6 percent in May from the previous month. Compared to a year earlier, home prices across the nation surged 12.2 percent, the biggest increase since February 2006. All but two states, Delaware and Alabama, posted annual price gains.
Other recent price indicators are also showing record-breaking gains. According to the latest S&P/Case-Shiller index, home prices in 20 major cities for April jumped 12.1 percent year-over-year, the biggest gain in more than seven years. Meanwhile, the month-over-month gain in the 20-city index of 2.5 percent was the biggest increase in the history of the index.
Overall, Fannie Mae finds that 72 percent of respondents believe now is a good time to purchase a home, down slightly from the previous month but still very high. Thirty-six percent said it is a good time to sell.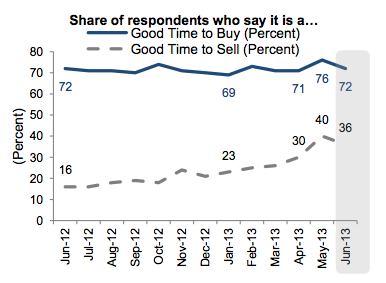 The strong bias to the buy side may be helped from improving financial conditions. The number of Americans expecting their personal financial situation to improve over the next year reached 46 percent, representing the highest level since June 2010. Twenty-six percent of people say their household income is significantly higher than it was a year earlier, a new survey high.
Don't Miss: Is Obamacare Already Hitting Small Businesses?
Follow Eric on Twitter (@Mr_Eric_WSCS)