What Do Americans Think About the Real Estate Market?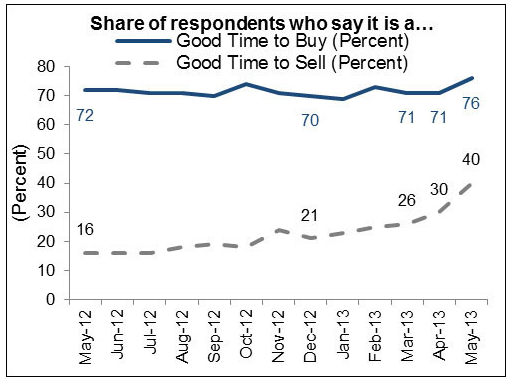 While the real estate market still appears to be dependent on low interest rates and inventory levels, a rebound in home prices has Americans across the country feeling better about the housing industry.
When it comes to the ability to buy and sell a home, Americans are more optimistic than they have been in at least three years. According to a new survey from Fannie Mae, the share of respondents who say now is a good time to sell a home reached a record high of 40 percent last month, up 10 percent from the prior month. Meanwhile, those who say now is a good time to buy gained 5 percent to reach a survey high of 76 percent.
"Sentiment toward selling a home appears to be catching up with the strengthening housing market," said Doug Duncan, senior vice president and chief economist at Fannie Mae. "The share of consumers who think it's a good time to sell a home spiked this month, the largest increase in the survey's three-year history. This jump may foreshadow a gradual return to more normal levels of housing supply from their lows of recent months."
The recent movement in home prices is bringing back memories of the housing boom. The latest reading from the Standard & Poor's/Case-Shiller index shows a 10.9 percent jump in home prices for the first three months of the year, compared to the same period last year. Home prices in 20 major metropolitan areas rose at their fastest rate since April 2006, and beat expectations calling for a 10.2 percent gain. In fact, all 20 cities posted year-over-year gains for the third consecutive month. Twelve of those cities experienced double-digit moves.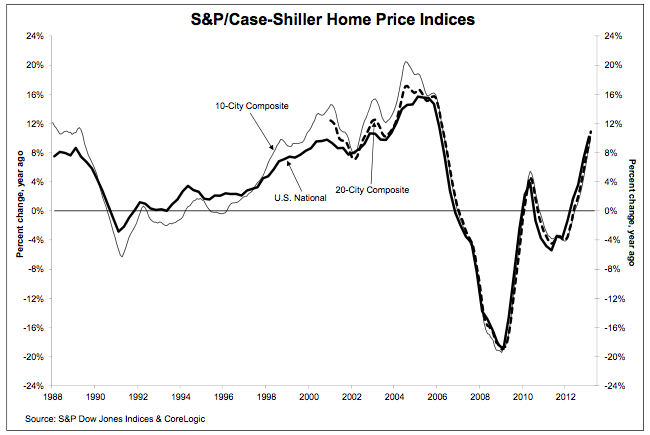 Asking home prices are receiving a lift as well. According to Trulia, asking home prices increased 8.3 percent nationally year-over-year in April. This is a sharp contrast to the 1.6 percent year-over-year decline seen in April 2012. Seasonally adjusted, asking prices rose 1.3 percent month-over-month and 4.3 percent quarter-over-quarter. Regionally, asking prices were higher than one year ago in 95 of the 100 largest cities.
Despite the rebound in prices, the housing recovery is starting to show signs of slowing. According to the Mortgage Bankers Association's latest report, loan application volume dropped 11.5 percent on a seasonally adjusted basis from one week earlier. It was the fourth consecutive weekly drop and the worst decline since June 2009. Meanwhile, the interest rate for a 30-year fixed-rate mortgage hit its highest level since April 2012, causing the affordability of buying a home to decrease.
The Fannie Mae survey finds that 46 percent of Americans think it will be easy to receive a mortgage, down slightly from April. Fifty percent of respondents believe it will be difficult to borrow money to purchase a home.
Other highlights from Fannie Mae include the following:
The average 12-month home price change expectation jumped to 3.9 percent, the highest level since the survey's inception.
The share of people who say home prices will go up in the next 12 months hit a survey high of 55 percent, while those who say home prices will go down dropped to 7 percent, the lowest level since the survey's inception.
The share of respondents who say mortgage rates will go up increased 3 percentage points to 46 percent, while those who say rates will go down hit a survey low of 5 percent.
At 76 percent and 40 percent, respectively, the shares who say it is a good time to buy a house and who say it is a good time to sell a house both reached survey highs.
The average 12-month rental price change expectation dropped to 3.4 percent, the lowest level since September 2012.
Holding steady from last month, 48 percent of those surveyed say home rental prices will go up in the next 12 months.
Retreating slightly from last month's survey high, 46 percent of respondents think it would be easy for them to get a home mortgage today.
The share of respondents who said they would buy if they were going to move increased slightly to 66 percent.
Don't Miss: Are Government Policies Hindering Businesses?
Follow Eric on Twitter (@Mr_Eric_WSCS)