What Do Revised Growth Forecasts Mean for Japan's Economy?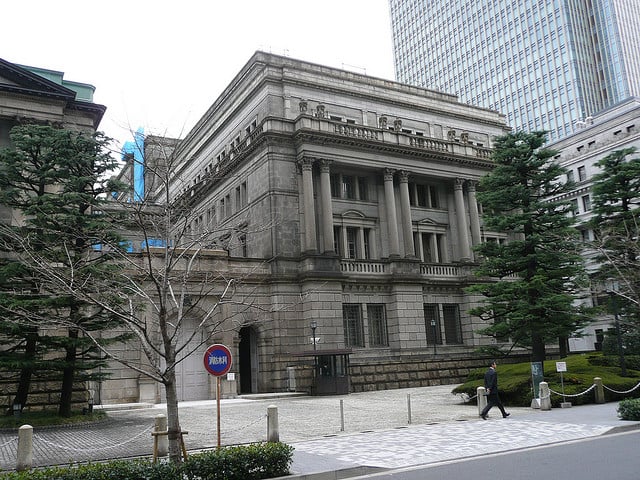 The Bank of Japan posted its forecasts for inflation and growth for upcoming years, Reuters reports. Economic growth for the year 2014 is now expected to be 1.5 percent, according to the bank, up from its earlier projection of 1.3 percent. Though the bank did not officially forecast that inflation would achieve the 2 percent target over a timespan of roughly two years, it said that preliminary results show that the the country is definitely on the right track to achieving the goal at this point in time.
The news is welcome for supporters of so-called Abenomics, the plan to revamp the Asian's country's economy by its prime minister, Shinzo Abe. If the Bank of Japan can finally get inflation in the country rolling, it may be able to lift deflationary pressures that have been troubling Japan over the course of the last decade. Likewise, it would be obvious that the massive stimulus programs the bank is currently running will have made an impact on the country's economy.
The problem is that the measures such as the stimulus are in place to supposedly offset an increase in the sales tax rate in Japan, which is set to jump from 5 percent to 8 percent next year. Many are concerned that this could cause an economic slowdown by hampering businesses, including scenarios that are not just short-term. Since the tax increase is permanent, but the stimulus is temporary, questions have arisen on the impact of the tax hike on the long-term growth rates of the Japanese economy.
A relatively weak Yen, which has seen its values drop all throughout this year, has been good news for many Japanese businesses. Many companies that benefit from exporting, such as car manufacturers and steel makers, have seen record profits. However, this has yet to transition into real gains for many of the Japanese people. Many analysts believe that the majority of Japanese people have become used to a sluggish economy, as venues such as restaurants and bars remain strapped for business.
Another problem is that wages have been slow to rise. Though prices only rose by 0.7 percent, year-over-year, as of this September, wages only rose by 0.1 percent in that time frame. This means that real wages, or the amount of spending power that workers have, actually decreased. This is especially problematic if the Bank of Japan does succeed in driving inflation rates higher. With a 2 percent inflation rate, this would mean that real wages would be dropping by 1.9 percent a year unless nominal wages increase at a faster rate.
Don't Miss: Top 10 Most Expensive States for College.