Revealed: Top Executives Share Outlooks for the U.S. Economy
The U.S. economy was much weaker than previously estimated in the second quarter, reflecting a slowdown in consumer spending and a lack of confidence in the recovery story. The less than expected growth also coincides with how executives from America's biggest companies feel about the economy.
The world's largest economy expanded at a rate of 1.3 percent from April through June, according to the Commerce Department. It is the slowest pace since the third quarter of 2011 and a decline from last month's 1.7 percent estimate. Household spending, which accounts for the majority of the economy, grew at a rate of 1.5 percent, the slowest pace in a year. While the growth figures are backwards looking, there is a more recent report reflecting the status of the American economy.
Catalysts are critical to discovering winning stocks. Check out our newest CHEAT SHEET stock picks now.
The Business Roundtable, which is an association of chief executive officers of leading U.S. companies, recently published its third quarter CEO Economic Outlook Survey. The survey was completed between August 30 and September 14, and the results show another decline in CEOs' expectations for sales, capital spending and hiring for the next six months. The economic index for the survey decreased to 66.0 in the third quarter, compared to 89.1 in the second. It is the lowest reading since the third quarter of 2009 and the third largest single quarter drop in the survey's history. The survey's key findings for the third and second quarter are shown below.

Jim McNerney, chairman of the Business Roundtable and chief executive officer of The Boeing Company (NYSE:BA), explains, "CEOs foresee slower overall economic growth for 2012 and have lower expectations for sales, capital expenditures and hiring compared to last quarter. The downshift in quarterly sentiment reflects continuing concern about the strength of the recovery, including uncertainty over the approaching fiscal cliff and accompanying debates about the tax code, sequestration and the debt ceiling." Other members of the Business Roundtable include executives from companies such as Bank of America (NYSE:BAC), Microsoft (NASDAQ:MSFT), Sprint (NYSE:S) and General Electric (NYSE:GE).
The chart below details the rapid decline in the composite index of CEO expectations for the next six months: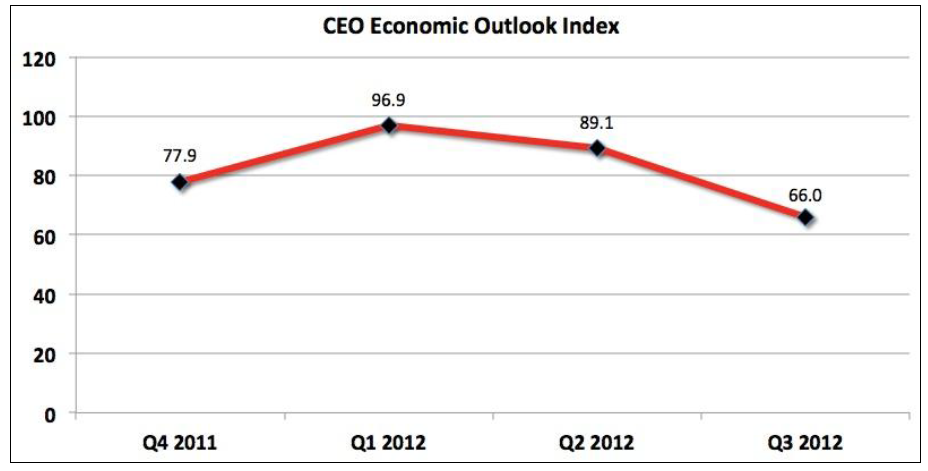 The Business Roundtable's CEO Economic Outlook Survey has been conducted quarterly since the fourth quarter of 2002. The organization represents leading U.S. companies with more than $7.3 trillion in annual revenues and nearly 16 million employees. Members account for almost a third of the total value of the U.S. stock market. In terms of the overall U.S. economy, the group expects real GDP to grow by 1.9 percent in 2012, down from last quarter's estimate of 2.1 percent.
Investor Insight: Caterpillar Outlook: Hidden Signal for Higher Gold and Silver Prices?