What Happens When Pennies and Nickels Become Too Expensive?
In a classic example of stepping over dollars to pick up pennies, chatter is getting louder that the United States could follow Canada's lead and reduce its production of certain coins.
Earlier this month, the Royal Canadian Mint officially ended its distribution of pennies to banks and retailers, in an effort to save money since production costs now exceed their face value. The government estimates that it cost about $11 million a year to supply pennies to the Canadian economy. Now, the big spenders in Washington D.C. may look under the couch cushion for similar savings.
Historic monetary actions and currency devaluations by central banks not only lift precious metals, but also other commodities. The cost of producing pennies and nickels in the United States is on the rise. The two coins, which are mostly made from zinc and copper these days, drained $109.2 million from taxpayers last year, nearly double the amount from just seven years ago, according to the U.S. Mint. As the chart below from Bloomberg shows, this trend does not appear to be changing anytime soon.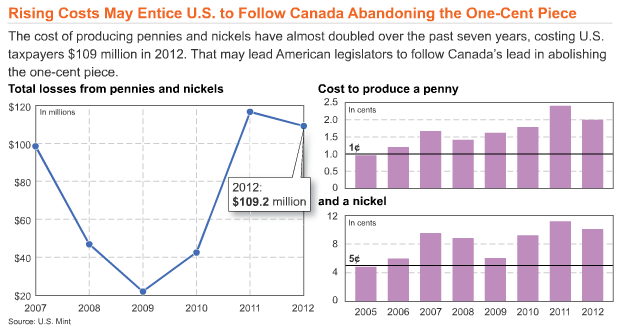 Pennies and nickels have cost more than their face value to produce since 2006, with the red cent currently costing 2 cents to mint, and the nickel more than 10 cents. This has resulted in a loss of at least $436 million.
Jim Kolbe, a former Arizona congressman who wants to abandon the penny and dollar bill, tells Bloomberg, "If you look around in the budget, there aren't a lot of places you can find savings where you don't cut a program and you don't raise anybody's taxes and you can impact the deficit. This is one where you can do that."
Saying it will "impact the deficit" is about as naive as one can get. When loose change becomes too expensive and officials start looking for ways to trim millions, as deficits and debts reach trillion-dollar milestones, it speaks volumes about the current state of affairs. Even worse, when politicians have to cut pennies and nickels from the budget because of gridlock, it provides little hope for real change.
Speaking at a virtual town-hall last week, President Obama expressed his outlook on the coin situation. Cutting production of the penny "is not going to be a huge savings for government, but anytime we're spending more money on something people don't actually use, that's an example of something we should probably change," he said. "The penny is an example of something I need legislation for; and frankly, given all the big issues, we're not able to get to it."
For investors wondering how to front-run any decision by the government regarding the production of coins, they may want to channel Kyle Bass. The Hayman Capital fund manager who correctly predicted the credit bubble, is a big believer in gold, platinum, and nickels. In Michael Lewis' latest book, Boomerang, Bass reveals that he obtained twenty million nickels for storage, totaling one million dollars. He explains, "I'm telling you, in the next two years they'll change the content of the nickel. You really ought to call your bank and buy some now."
Naturally, there are laws about melting U.S. currency for its contents, but one can't help but to imagine that the current Nickel would become a collector's item if it receives a Roman makeover.
Don't Miss: How Strong is Gold Demand?