What Is Preventing Americans From Saving for Retirement?
There is no way to hide the fact that the financial collapse of the late 2000s was catastrophic for millions of Americans. The U.S. Treasury has estimated that 8.8 million jobs and $19.2 trillion in household wealth were lost. From the pre-recession peak to its trough, real GDP contracted more than 5 percent, and many economists believe that the crisis has forever altered the growth potential of the U.S. economy.
Beyond broad strokes, the impact of the crisis on Main Street has been hard to quantify, but one area where the crisis struck particularly hard was the capacity of Americans to prepare for retirement. Equities collapsed by as much as 40 percent just as the oldest baby boomers were gearing up to retire, obliterating the retirement savings of millions. Older workers are also often the first to go when layoffs begin, and layoffs were all the rage heading through the turn of the decade.
Without work, with stagnant wages, and having no trust in financial markets, millions of Americans are now facing what some have classified a crisis when it comes to preparing for retirement.
The atmosphere is thick with signs of trouble. The Employee Benefit Research Institute reports that "Although Americans' confidence in their ability to secure a financially comfortable retirement has remained low, they do not appear to be taking steps to compensate by improving their preparations for retirement."
Just two-thirds of working Americans have reported that they and/or their spouse (one, or the other, but probably not both) have saved money for retirement, down from 75 percent in 2009. The percentage of workers currently saving is 57 percent, down from 65 percent in 2009.
This average savings rate varies greatly by income level. In 2013, 94 percent of those who earned more than $75,000 per year report having saved money for retirement, up slightly from 93 percent in 2009. Meanwhile, the savings rate among those earning between $35,000 and $75,000 has fallen to 76 percent in 2013 from 80 percent in 2009. Most troubling of all, the savings rate among those earning less than $35,000 per year has fallen from 49 percent in 2009 to just 24 percent in 2013.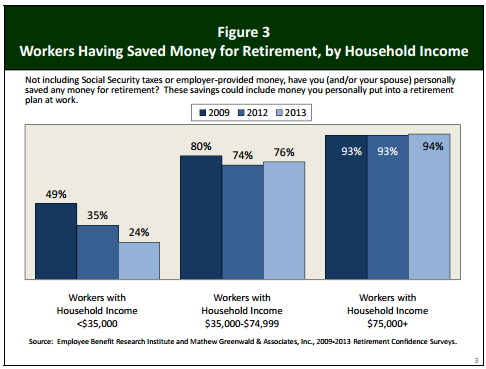 Compounding the issue is that among those who are saving, a vast majority are not saving well. A recent report from Natixis Global Asset Management shows that among investors with $200,000 or greater in assets, a full 72 percent have admitted that their investment knowledge is weak. What's more, 54 percent said they don't have a financial plan and 45 percent said they don't have clear financial goals.
Many people conflate the idea of investing and saving for retirement. Investments are things such as stocks, mutual funds, bonds, and index funds. You can certainly try to build a retirement nest egg by investing directly in the stock market or in municipal bonds, but there's a better way to go about growing your money. Chiefly, you can create a retirement account and fund it with pretty much any investment you like, and avoid pesky capital gains taxes.
Creating a plan and faithfully executing it addresses many of the problems traditionally associated with retirement saving.
Here's how the major U.S. indexes traded on Thursday:

Don't Miss: Top 10 Cities with Booming House Prices.