What Is Wal-Mart's Aim for Progress Financial?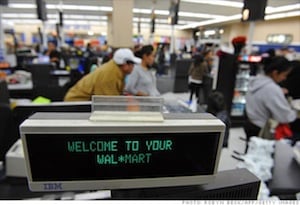 Wal-Mart Stores Inc. (NYSE:WMT) will soon enter the lending business — albeit, in a less direct role than it had originally hoped for. Rather than offer credit directly to customers, Wal-Mart will work with Progress Financial Corp. in order to provide credit to demographics who aren't as likely to have bank accounts.
Progress Financial was founded by James Gutierrez and belongs to a growing group of financial institutions that serve Hispanic customers who don't have bank accounts. While Wal-Mart has attempted to break into the lending market, it has found itself in opposition to U.S. lenders and unions. Now, Progress Financial will allow credit to get into the hands of this demographic, through a network of more than 80 branches, where they will be close to Wal-Mart stores and able to pay via purchase cards.
"We had always hoped there would be some relationship with retail," said Gutierrez. "Wal-Mart is the low-price leader and that appeals to a certain demographic. There's a lot of overlap." The purchase cards received from Progress Financial — with loans of $500 to $3,500 — are used like debit cards in stores. APR is at or below 36 percent which, while higher than most traditional banks, is an acceptable rate according to consumer advocates.
Loan payments are weekly or bi-weekly and can be paid at either Progress Financial's branches or retailers such as Wal-Mart, 7- Eleven Inc., and CVS Caremark Corp. (NYSE:CVS).
However, Progress Financial is not a bank and can't take deposits, so the money that the financial institution lends out is borrowed at high interest from hedge funds. It has also raised venture capital, most notably from the Waltons' Menlo Park-based Madrone, which has put in tens of millions of dollars. Madrone, which generally invests in alternative energy technologies, has increased its ownership to the point that when James Gutierrez stepped down in April of last year, Raul Vazquez, Wal-Mart's previous executive vice president of global e-commerce, took his place.
Dave Tovar, a Wal-Mart spokesman, maintains that there is no direct relationship between Wal-Mart and Progress Financial. Madrone and Vasquez declined comment to Bloomberg.
Consumer advocates question Wal-Mart's motives and goals in regards to its relationship with Progress Financial. "We're concerned about people getting into consumer debt that perhaps they shouldn't,'' she said. "It's one thing to support entrepreneurs and small businesses. It's another to provide a loan for someone who wants a big-screen TV," Liana Molina of San Francisco-based California Reinvestment Coalition says.
However, Brian Melzer, an assistant professor at Northwestern University's Kellogg School of Management, thinks that Progress Financial might be a good alternative to payday lenders who charge triple-digit rates."Progreso fills an important niche," he said. "They take people who banks won't take risks on. They might well be good credit risks but they just don't have the history."
Of the more than 80 Progress Financial branches, four-fifths of them are within five miles of a Wal-Mart. And since 2006, the institution has loaned out more than $550 million. Gutierrez explained, "It's hard to make money on small loans unless you have scale," and while the lender had hoped to be profitable by the end of 2012, it still reported a net loss upwards of $27.5 million last year.