What Is Warren Buffett Buying and Selling?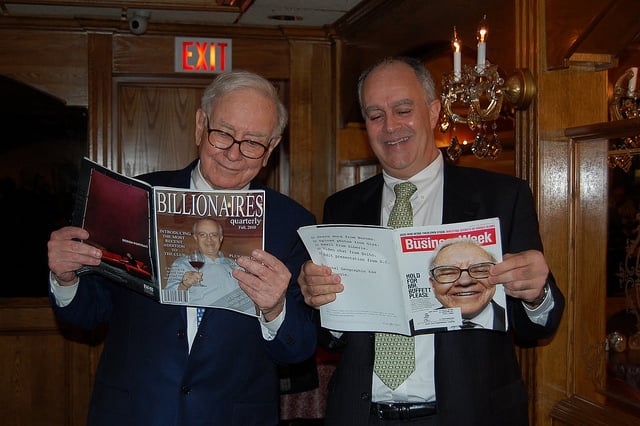 A new filing with the Securities and Exchange Commission shows that Warren Buffett's Berkshire Hathaway (NYSE:BRKA) made several notable moves in the second quarter.
Many institutional investment managers recently filed their mandatory 13-F with the SEC. The filing is a quarterly report of equity holdings required by managers that oversee more than $100 million in qualifying assets and must be filed within 45 days of the end of each quarter. The 13-F provides a peek at what hedge funds did in the previous quarter, but investors should keep in mind that hedging and trading strategies of each fund are still unknown.
Berkshire Hathaway reported new positions in DISH Network (NASDAQ:DISH), a premier satellite provider, and Suncor Energy (NYSE:SU), a sustainable energy company. The stakes were valued at $23.3 million and $524 million at the end of June, respectively. Considering the sizes of these positions, they are more likely to be the work of Buffett's managers, Ted Weschler and Todd Combs, who do not need Buffett's permission to invest in companies.
Several positions were also increased during the second quarter. The Oracle of Omaha raised his stake in General Motors (NYSE:GM) by 60 percent from 25 million shares to 40 million shares, worth more than $1.3 billion at the end of June. Holdings in other long-time Buffett favorites such as Wells Fargo (NYSE:WFC), Bank of New York Mellon (NYSE:BK), and U.S. Bancorp (NYSE:USB) were also increased.
Berkshire's stake in Chicago Bridge & Iron (NYSE:CBI), which was a new position in the first quarter, jumped 47 percent to more than 9.6 million shares, compared to 6.5 million shares in the prior quarter. Shares were also increased in Verisign (NASDAQ:VRSN) and National Oilwell Varco (NYSE:NOV) by 33 percent and 19 percent, respectively.
Sometimes holding steady is the best strategy. Berkshire maintained a very large presence in the following blue chips: International Business Machines (NYSE:IBM), Wal-Mart (NYSE:WMT), Procter & Gamble (NYSE:PG), and American Express (NYSE:AXP).
Buffett also kept his position in Coca-Cola (NYSE:KO) unchanged, which stood at 400 million shares ($16.04 billion) at the end of the second quarter. This is not surprising, given Buffett's recent comments about the beverage company.
In April, the billionaire made a surprise appearance at Coca-Cola's annual shareholder meeting and said, "We've never sold a share, and I wouldn't think of selling a share."
However, Berkshire conducted some selling in other names. The company reduced its stake in Kraft Foods Group (NYSE:KFT) and Mondelez International (NASDAQ:MDLZ) by 88 percent and 92 percent, respectively. The firm also trimmed shares in GlaxoSmithKline (NYSE:GSK) and Moody's (NYSE:MCO). Berkshire completely sold its $38 million dollar position in Gannett (NYSE:GCI).
Don't Miss: Are Consumers Still Addicted to Debt?
Follow Eric on Twitter @Mr_Eric_WSCS