What Prompted Shares of Bank of America to Hit a New 52-Week High?
The Dow Jones Industrial Average owes Bank of America (NYSE:BAC) some thanks. The nation's second-largest bank soared to a new 52-week high on Tuesday — hitting $12.34 per share before closing ten cents down — and pushed the blue-chip average to within 1 percent of its all-time record close of 14,164.53, which was reached on October 9, 2007.
It may seem strange that Bank of America made such gains, especially since the company has experienced a one-month bear market to start the year. The bank's stock received no help from the lackluster earnings report it released in mid-January; Bank of America's fourth-quarter profit was pulled down 63 percent due to billions of dollars worth of charges related to the bank's settlement with Fannie Mae (FNMA.OB) and other mortgage-related lawsuits.
But an upbeat report from the consumer credit company TransUnion — which showed that fewer Americans are falling behind in their mortgage payments — could have contributed to Bank of America's gains.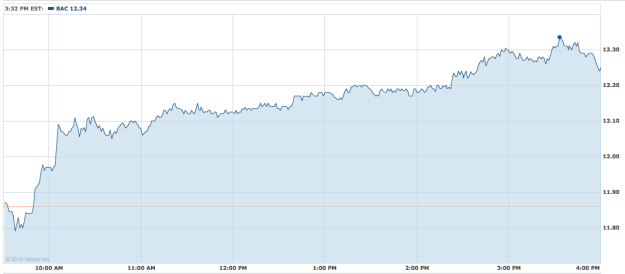 TransUnion announced on Tuesday that the national mortgage delinquency rate, a measure of how many borrowers are 60 days or more past due, declined for the fourth consecutive quarter. The rate dropped from 5.41 percent in the third quarter to 5.19 percent in the fourth quarter, and even more impressively, the delinquency rate dropped close to 14 percent on a year-over-year basis.
"The national mortgage delinquency rate experienced its largest yearly decline since the conclusion of the recession, though we still remain far above normal levels," said Tim Martin, vice president of the U.S. Housing division of the firm's financial services business unit. "The elevated delinquency levels that we still are experiencing are a result of older vintage loans — borrowers who haven't been making their payments for a rather long time that are still in the system, inflating the overall rate," he added. The mortgage loans that have been originated more recently, Martin explained, are not the reason for the high delinquency rate, indicating that changing standards are helping the market…
This is good news for financial institutions like Bank of America and Citigroup (NYSE:C), which also hit a 52-week high of $44.50 on Tuesday, because they are no longer losing money on mortgage loans at such a high percentage. However, the standard delinquency rate ranges between 1.5 percent and 2 percent, so lenders across the board are still experiencing higher losses than they would under normal economic conditions.
Both Bank of America and Citigroup have struggled to get rid of the the billions of dollars worth of bad mortgages on their books since in the past five years. According to the Motley Fool, Bank of America's Legacy Asset and Servicing portfolio had $136.7 billion in loans at the end of the third quarter, while Citigroup had a similar stockpile.
In comparison, both Wells Fargo (NYSE:WFC) and JPMorgan Chase (NYSE:JPM) are originating more mortgages than they have in the past few years. In the first quarter of 2012, Wells Fargo underwrote $125 billion in mortgages, and JPMorgan pumped out $51 billion in the same three-month period.
Don't Miss: What Do Top Executives Think About the Economy?