What We Learned About the Economy This Week
The 10-second takeaway for the week is that the bottle of wine you're saving for when the economy finally, unequivocally rounds a corner is safe collecting dust for now (just make sure it stays horizontal).
Perhaps the most interesting economic development last week was revealed in the U.S. International Trade in Goods and Services report. The U.S. trade balance, running a deficit as usual, unexpectedly shrank to -$38.5 billion in December. Of course, that's still a massive number, but compared to November's -$48.6 billion deficit and estimates for -$46.0 billion in December, it's relatively slim.
There are a number of details that make this particularly attractive. The first is that U.S. service exports are not just running a surplus, but that surplus is increasing — $0.7 billion in December to $17.7 billion total. Meanwhile, the goods deficit decreased by $9.4 billion to $56.2 billion, led by an increase in industrial goods and civilian aircraft exports. Not only does this suggest strength among America's exporters, but increased demand from overseas economies suggests that the global economy is getting healthier.
What all this points to, and what most people care about, is that the unexpectedly strong trade data could result in an upward revision to the advance estimate of fourth-quarter economic growth, which showed an unexpected 0.1 percent contraction.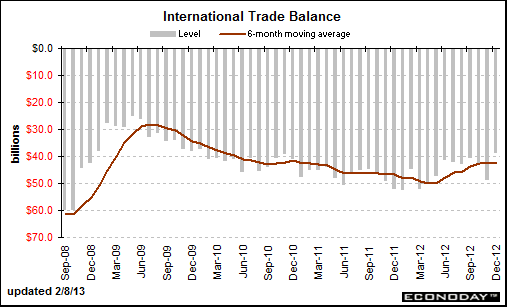 There's no hiding that this week's initial unemployment insurance claims report was pretty boring. The Department of Labor reported that initial claims fell 1.3 percent week over week to 366,000. In line with the general trend of recent labor market reports, the four-week moving average wobbled less than 1 percent lower to 350,500. This follows a slight increase in both measures last week.
Most states reported fewer layoffs, but the weekly figure is still above the four-week moving average, suggesting that the total number of people claiming benefits could grow at an accelerated rate in the coming weeks. As it stands, 5.6 million people currently claim unemployment benefits, down 27 percent compared to the same time last year. The seasonally-adjusted four-week moving average for first-time claims is down 5.4 percent year over year.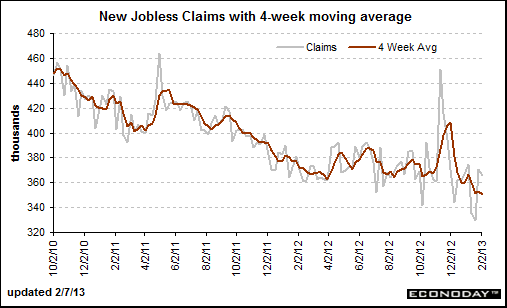 Haunting every conversation about the economy like an angry, annoying ghost is the on-going fiscal drama in Washington that surrounds the sequester. The White House told Congress on Friday that government spending cuts, scheduled to take effect on March 1, would mean 1,000 fewer FBI officers, mass layoffs of government meat and food inspectors, and huge cuts to federal aid programs aimed at helping hundreds of thousands of low-income women and children.
While the sequester is pretty much the worst way to cut a deficit that anybody could imagine (congratulations Congress on the creative feat, at least), the Congressional Budget Office released a report suggesting that if left unattended, the sequester could push the 2013 deficit below $1 trillion for the first time in four years.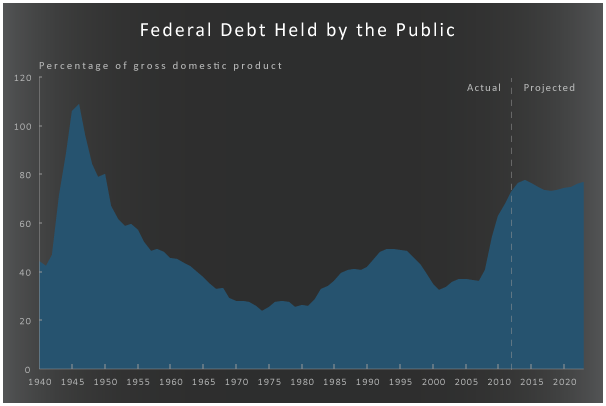 Don't Miss: Will Strong Trade Data Translate Into GDP Growth?