What Would Home Prices Look Like Without the Bubble?
Due to a lack of competence and too much greed, the nation recently suffered its worst financial crisis since the Great Depression. The meltdown in the real estate market highlighted much of the distress as debris from the housing bubble ripped through Main Street. The housing sector has been rebounding courtesy of massive intervention from policy makers, but what would home prices look like today without the previous bubble?
While nothing can be changed about the housing melt-up and subsequent collapse of yesteryear, historic trends provide a glimpse at a hypothetical housing market — one that doesn't include a bubble. Using data from the Federal Housing Finance Agency, Zillow recently calculated the average annual appreciation rate in home prices for every quarter from 1985 to 1999 for the top 30 metro areas in the country. This provides a period to compare with the early 2000s to 2010, which are widely considered to be the bubble years.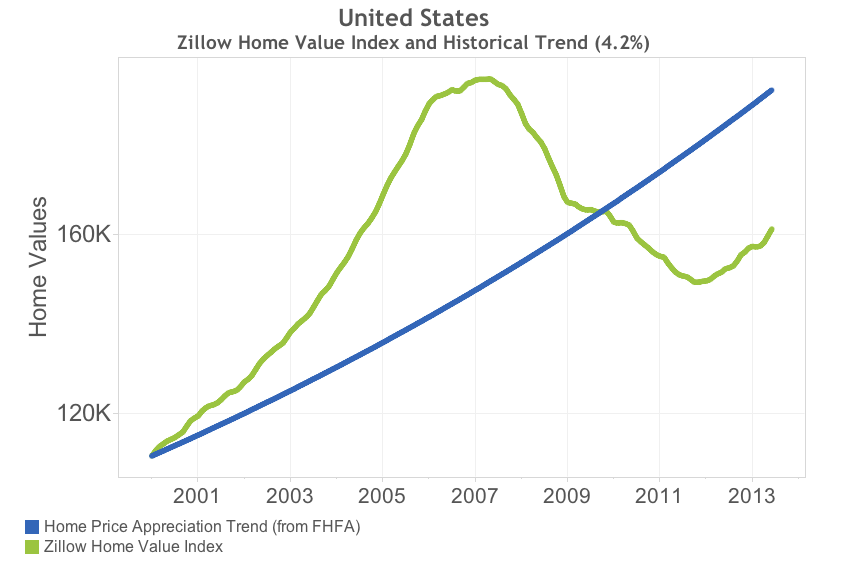 Zillow then graphed home prices for the nation as if they never entered the bubble phase. As the chart above shows, there is a clear difference between the historical trend and reality. Home prices peaked in the first half of 2007 and started to collapse shortly thereafter. Interestingly, home values fell below the hypothetical trend and are still years away from fully recovering.
The study certainly contains some flaws, but it helps to validate the belief among housing bulls that home prices are not in another bubble. Zillow notes that the historical trend line does not factor in changing fundamentals, and some cities such as Detroit should not expect to match the appreciation rate of other areas of the country.
"Detroit experienced a historic home value appreciation rate of 6 percent. Going forward, this rate seems high, and will likely be lower due to many economic and demographic changes that have occurred in Detroit," Zillow explained. "Other markets have a fairly high rate of historical appreciation as we included part of the tech bubble of the late 1990s in our historic time period."
Looking forward, a Zillow survey of more than 100 economists found that home values are expected to gain 6.7 percent this year from the end of 2012. A majority of the panel believes mortgage rates won't derail the market as long as they stay below 6 percent. In fact, many economists expect the median U.S. home value to challenge its previous peak of $194,600 made in May 2007 by the end of 2017. At the end of 2012, the median home value was $156,900.
Don't Miss: Top 10 States With Surging Home Prices
Follow Eric on Twitter @Mr_Eric_WSCS