What's Next for Sirius XM?
Sirius XM Radio (NASDAQ:SIRI) was flat for the week after Liberty Media (NASDAQ:LMCAD) acquired its long-sought majority stake in the satellite-radio company. Liberty Media, chaired by John Malone, bought 50 million shares at $3.15 a piece, bringing its total stake to 50.7 percent stake and giving it control of the board.
The move was a long-time coming, preceded by the departure of former CEO Mel Karmazin. Malone had criticized Karmazin for not expanding aggressively enough or adapting to new technology quickly enough. That's not to say Sirius struggled under Karmazin's watch — the opposite, in fact, as the company recovered from the brink of bankruptcy.
Sirius will report its fourth-quarter results on February 5. Sirius has grown its revenue for four consecutive quarters, and analysts are looking for a fifth in this report. Expectations for earnings are just $0.02 per share, which is one penny more year over year and quarter to quarter…
Looking ahead, Sirius is expecting full-year 2013 revenue to top $3.7 billion, growing from an estimated $3.4 billion in 2012. The company is expecting to feed this revenue growth with 1.4 million new subscribers. Sirius previously announced that it added 2 million net subscribers in 2012 for a grand total of 23.9 million.
What's more, competitor Pandora (NYSE:P) was just hit with a 25 percent increase in the cost of royalties. This could be a strong blow against the company's bottom line, which is only occasionally positive. Pandora claims 60 million users and growing revenue as well, but lacks the momentum Sirius has. Pandora's stock price is off 16.5 percent year over year.
Most analysts are looking for long-term growth out of this company, with projections for increased revenue through 2013. With a huge share of the in-car radio market, Sirius also stands to benefit on the back of 15.5 million expected vehicle sales in the U.S. this year.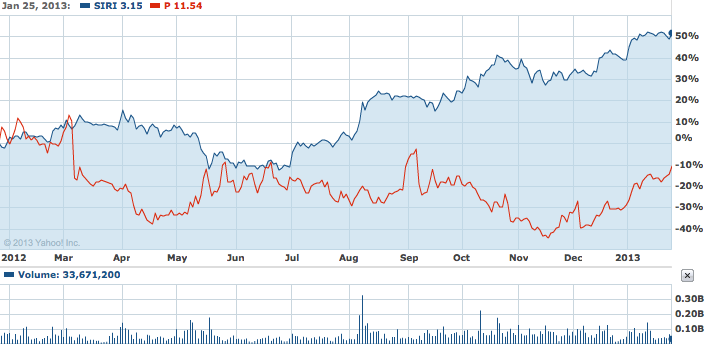 Don't Miss: Will Automakers Define Sirius XM's Fate?