What's the Best Way to Trade the Auto Industry After Dollar Thrifty?
Dollar Thrifty (NYSE:DTG) announced on Tuesday it did not receive any worthy buyout offers.  Last month, the dollar rental company sent letters to Hertz (NYSE:HTZ) and Avis Budget (NYSE:CAR) asking for "best and final" offers by October 10.  "The purpose of setting a deadline for submission of bids was to bring clarity to the next steps for the company. As we said all along, continuing uncertainty is in no one's interest," Dollar Thrifty President and CEO Scott Thompson said.
Avis Budget (NYSE:CAR) pulled its bid in September, and Hertz's (NYSE:HTZ) bid is still on the table, but a deal is anything but likely at this point. Shares of Dollar Thrifty (NYSE:DTG) fell more than 2% on the news, and shares are off nearly 30% since its all-time high in May. Without additional buyout offers rolling in, investors may want to consider other ways to play the automobile industry.
Investor Strategy: Should Investors Turn to Meat Instead of Peanut Butter?
One of the golden rules in investing is don't lose money.  Unfortunately, this has been a hard rule to follow for General Motors (NYSE:GM) and Ford (NYSE:F) investors.  After receiving a government bailout, GM pulled off the biggest IPO in US history, raising $20.1 billion last November.  However, since issuing 478 million common shares at $33 each, the price has fallen more than 30%.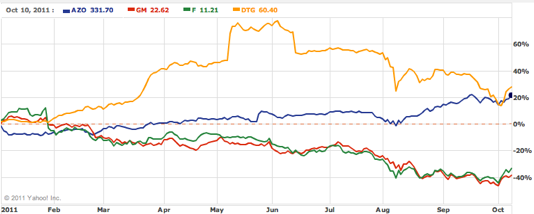 As the chart above shows, automaker Ford (NYSE:F) is in the same seat as GM (NYSE:GM).  Even though Ford was healthy enough not to take a bailout, shares have fallen more than 30% year-to-date.  Consumers continue to feel the effects of the credit crisis and high unemployment.  The Federal Reserve recently announced that non-revolving credit such as student loans and auto financing declined by the most in three years.  Chris Rupkey, chief financial economist at Bank of Tokyo-Mitsubishi explained, "Consumers were cautious over taking on additional debt at the end of the summer after the volatility in the stock markets and the uncertainty caused by the failure of Congress to work together to bring down these trillion-dollar deficits."
Metals Recap: Here's Why Gold and Silver Were Flat While Endeavour Silver Climbed
With the lack of available credit and jobs providing headwinds for consumers and the auto industry, investors appear to be investing in auto maintenance companies such as AutoZone (NYSE:AZO).  Shares of AutoZone have steadily increased 20% this year, beating the American automakers and the S&P 500 (NYSE:SPY).  According to Zacks Equity Research, the company posted a 12.1% increase in profit for the fourth quarter of its fiscal year ended August 27, 2011.  On a per-share basis, profits increased nearly 27%.  The future continues to look strong for AutoZone as drivers are keeping and maintaining their vehicles longer.  The company also competes with O'Reilly Automotive Inc. (NASDAQ:ORLY) and Advance Auto Parts Inc. (NYSE:AAP).
Don't Miss: Is Craft Beer Taking a Sip Out of Constellation Brands Market Share?